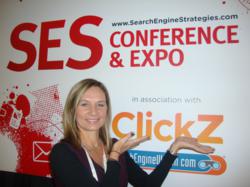 Public relations and search marketing professionals will get a competitive edge by learning how SEO, Social Media and PR work together. I am proud to be associated with SES Chicago and a faculty member of the ClickZ Academy
Chicago, Il (PRWEB) November 02, 2011
Online PR Specialist Lisa Buyer announced today she joins SES Chicago on November 14-18, 2011 at the Hyatt Regency Chicago. Search and social marketers will find Buyer on the schedule as a ClickZ instructor for The PR and Copywriting Workshop November 14 as well as leading an interactive Social Media Express clinic and a guest at Ask the Experts Session on November 15.
Chicago's public relations and marketing community can get first hand insight on the powers merging online public relations, social media and search engine marketing.
"Public relations and online marketing professionals will get a competitive edge by learning how SEO, Social Media and PR work together. I am proud to be associated with SES Chicago and a faculty member of the ClickZ Academy," said Buyer.
Highlights of Lisa Buyer's PR and Copywriting Workshop

The fundamentals of online PR and optimized copywriting
Online public relations and SEO best practices and how to apply
Tips on headline, titles, subhead and description writing for networks like Facebook
Guidelines on how to write for search and social media for more visibility
How to apply optimized copywriting to social media
Discovering online PR and copywriting tools for writing, measuring and tracking
Other ClickZ Academy workshops available at SES Chicago
8:00 am-12:00 pm
B2B Online Marketing Training
Online Marketing Foundation - SEO
Local Online Marketing 101 to 411
1:00 pm-5:00 pm
Public Relations and Optimized Copywriting
Social Media Marketing for Your Business
How to Architect a Search-Engine Friendly Website
When it comes to relationships, Lisa Buyer @lisabuyer believes the connection between social media, search and public relations is exponential. As the founder of three media companies and CEO of The Buyer Group, Lisa is ambitious about the influence of public relations on social media, SEO and SEM, and she continues to share her innovative approach with clients, peers and associates. The Buyer Group is an interactive PR, social media and branding agency in South Florida that also consults agencies transitioning from traditional media to today's best digital strategies. Clients include public and private companies in the technology, real estate and health/beauty industries.
Lisa is the editor of several blogs and teaches online courses on applying social media to business networks. She is a regular speaker and moderator on topics of online PR, social media and search at national conferences, including Search Engine Strategies and PubCon.
Incisive Media's SES Conference & Expo is a leading global conference and training series focused on search engine marketing. Other Incisive resources include ClickZ, which provides digital marketing news, information, commentary, advice, opinion, and research and Search Engine Watch, which covers news and information about search, analysis of the search engine industry, and offers tools for improving search marketing effectiveness.
Incisive Media is a leading global provider of specialized business news and information in print, online, and in person. For more information, visit http://www.incisivemedia.com.
###