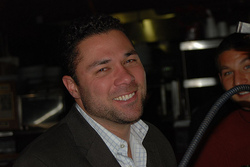 96% of CEOs agree that no matter tight budgets, going to trade shows is vital.
New York, NY (PRWEB) February 15, 2010
A study by online trade show publication Tradeshow Week has determined the most popular reasons conference attendees decide to attend trade shows. The top two reasons are as follows:

84% of trade show attendees attend to "keep up to date on trends and issues."
82% of trade show attendees attend to "see new products."
Search Engine Strategies (SES) New York, the premiere search marketing conference for over a decade has long been known as a venue both to keep up to date on the latest developments in the industry and to explore and discover new products. It is being held from March 22-26, 2010 at the New York Hilton, and will offer presentations, panels and networking events for marketing professionals working in the search engine optimization (SEO) and pay-per-click (PPC) arenas. Marketers can register for the conference at a discounted rate through February 19.
"96% of CEOs agree that no matter tight budgets, going to trade shows is vital," remarked Matt McGowan, Publisher and Head of U.S. for Incisive Media. "I personally think it's more important now than ever, in fact. Competition is fierce for every last dollar your marketing budget can get you and, if you don't keep up to date on the latest issues, there is a good chance you will be left behind. You can be sure your competitors will be attending SES New York, so to even keep up with the rest of the industry, attending trade shows like SES is very important."
Sessions that will appeal to those attending SES New York primarily to keep up to date on trends and issues include:
Search: Where To Next focuses on the future of the industry. This is a veteran panel of experts who will let you know what should be on your search radar in 2010 and beyond.
Bringing SEO In-House: The Pros and Cons describes the possible advantages and disadvantages to bringing SEO in-house. Representatives from the University of San Francisco, Shopping.com, and SEMPO discuss how to bring your in-house SEO up to speed.
Real Time SEO: No More Yesterday's News is a session in which Simon Heseltine of AOL discusses the tools that large media companies use to help them rank well for breaking news keywords as well as capitalizing on social media.
Duplicate Content and Multiple Site Issues session is led by industry luminary Shari Thurow of Omni Marketing Interactive and addresses the issues one can face with duplicate content. How not to get banned by running mirror sites and how not to get robbed of a rightful spot in the search results are among the topics of discussion.
For those attending SES New York primarily to see new products, SES New York has the following new exhibitors lined up:
Adlift is an SEO firm known for intelligently interpreting its clients' data. The Adlift team delivers effective optimization campaigns based on measurable factors specific to a client's situation.
Adlucent uses predictive technology and custom optimization algorithms to continuously improve search marketing performance for the world's eCommerce leaders.
gShift Labs uses a unique automation engine to help companies through SEO, and increase productivity by taking the grunt work out of the SEO analysis.
Topseos.com goal is to identify and rank the best internet marketing agencies and tools.
To register for SES New York 2010 visit: http://www.searchenginestrategies.com/newyork/
About SES
Incisive Media's Search Engine Strategies is a leading global conference and training series focused on search engine marketing. Other Incisive resources for interactive marketers include ClickZ.com for digital marketing news, information, commentary, advice, opinion and research and Search Engine Watch which provides news and information about search, analysis of the search engine industry and tools for improving search marketing effectiveness.
Incisive Media is a leading global provider of specialized business news and information, in print, in person and online. The company's principal markets include financial services, legal services, commercial real estate, marketing services and risk management. Incisive Media's market-leading brands include Accountancy Age, Computing, Investment Week, Legal Week, Post, Risk, and Search Engine Strategies. For more information, visit http://www.incisivemedia.com.
For more news and event updates visit the SES blog at: http://blog.searchenginestrategies.com/
For more information, contact:
Greg Jarboe, SEO-PR, Inc.
978-549-9537
Christian Georgeou, Incisive Media
212-457-7844
###