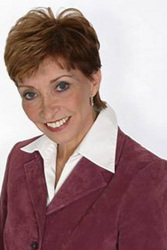 Come as you are and leave with a new beginning.
College Station, TX (PRWEB) October 23, 2007
The motto at http://www.SetFreeToday.com is "Come as you are and leave with a new beginning." Founded by Jan Coates, author/speaker/consultant, Set Free Today, is designed to provide a safe gathering place for people who want to feel free to call on God, have a peaceful heart, and experience healing and wholeness.
Said Coates, "God never says, come to me when you get your life straightened out. Rather he says, 'Come to me -- just as you are -- and I will set you free.'"
Coates knows firsthand the pain of hiding from God because of feelings of unworthiness and shame. By God's grace, she overcame child abuse, dysfunctional family relations, divorce, the loss of her only child, depression, gang warfare, cancer and much more. Coates knows about hanging on to a bare thread of hope and overcoming, in spite of all odds and worldly conditions.
She's living proof that God chooses the improbable to demonstrate His healing power and share the Good News.
The Set Free Today ministry team includes bestselling Christian authors, inspirational speakers, lay counselors and pastors. http://www.SetFreeToday.com features:

Daily devotionals
Articles
Books
Resource Guide
Blog
Ezine
Audio and Video
Prayer Room
Speaker Network
For more information, please contact Jan Coates, http://www.setfreetoday.com.
For more information contact:
Jan Coates
Creative Consulting/Marketing Solutions
http://www.creativeconsultingmarketingsolutions.com
http://www.SetFreeToday.com
979-690-3700
###