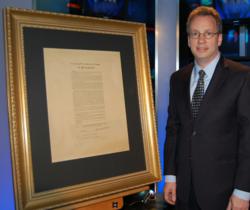 Edison held over one thousand U.S. patents... but by far his most famous innovation was lighting the world with electric light bulbs," stated Seth Kaller.
New York, New York (PRWEB) August 30, 2012
September 4, 2012 is the 130th anniversary of the day the power was turned on in 1882 at the world's first commercial power plant, located in New York. The Edison Illuminating Company's Pearl Street Station opened with a single direct current generator and the first customers included the New York Stock Exchange, J.P. Morgan's home and the New York Times building. Seth Kaller, a leading expert in acquiring and appraising rare historic documents and artifacts, has a unique Thomas Edison note from that first day, along with a collection of related documents compiled by Edison's chief engineer, Charles L. Clarke. The archive, valued at $22,000, is a testament to Edison's genius of blending creative inspiration and production methods.
"Thomas Edison's Menlo Park laboratory was called the Invention Factory. Edison held over one thousand U.S. patents for improvements in the telegraph and telephone, invention of the phonograph and the stock ticker, and many others, but by far his most famous innovation was lighting the world with electric light bulbs," stated Seth Kaller. "He and his staff developed the entire system, from power generation to long-lasting bulbs, and the system's first major test was to light New York City's Financial District from Edison's own power station."
The archive contains Edison's experimental notes from two important dates. One witnessed the dawn of a new era as power produced by the plant flowed to the company's first 85 customers. The other documents the November day of the "first successful trial of running two entirely separate engines with dynamos in multiple arc." Both sets of notes were written on indicator cards noting the plant's electrical load. Edison annotated the graph, showing the load for 1,000 and for 400 lights. The cards are further annotated by Edison's chief engineer, Charles L. Clarke, attesting that the notes were written in Edison's hand. Included is Clarke's 12-page Autograph Manuscript Signed, "Edison's First Commercial Lamp," (Schenectady, NY, January 9, 1929) which provides his later retelling of the historic occasion.
Also featured are an invoice (using power lines as letterhead script), from the Brush Electric Illuminating Company to the City of New York, for one month's supply of electricity to 67 street lights, dated July 1883; two documents discussing the estimated construction costs and specifications for the Pearl Street plant, dated July and October 1881; a clipped Thomas A. Edison signature, undated; a signed cabinet photograph of Charles L. Clarke, collector of this archive; and a December 1882 newspaper clipping detailing the success of Edison's lighting project.
Kaller has built museum-quality collections for individuals and institutions, as well as legacy collections for philanthropists to donate. He has handled important manuscripts and documents relating to the Declaration of Independence and the U.S. Constitution; leaves from a draft of George Washington's inaugural address; Abraham Lincoln's "House Divided" manuscript and signed copies of the Thirteenth Amendment; and Robert E. Lee's farewell to his troops. Additionally he recently was the agent for the seller of an original copy of the Emancipation Proclamation signed by President Abraham Lincoln which was auctioned in New York City this past June for over $2 million. Kaller has handled eight of the nine Lincoln-signed copies that have been offered publicly in the last 40 years. Many of Kaller's documents and artifacts will be introduced to the public for the first time on October 4th when the Westport location of Rockwell Art and Framing will be transformed into "History You Can Own" – an exhibit of more than seventy items that offer a rare glimpse into the past and a unique opportunity to own a piece of American history.
Seth Kaller, Inc. is located in White Plains, New York. Among his inventory are other Lincoln signed documents, a rare copy of the Declaration of Independence, and the chair in which Lincoln was sitting when he received the nomination for President. Many documents from his inventory can be viewed online at http://www.sethkaller.com. His new catalog titled "Washington, the Revolution, and the Founding," includes items ranging from $25 to over $1,000,000. For additional information visit http://www.sethkaller.com or call Seth Kaller, Inc. at 914-289-1776 or info(at)sethkaller.com.
###