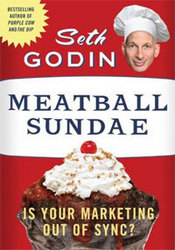 A meatball sundae is the unfortunate and often disastrous combination of older organizations using new marketing techniques
Portland, Ore. (PRWEB) December 19, 2007
Corvent, LLC, a premier provider of web seminar event services and web conferencing registration solutions, today announced a complimentary web seminar featuring prominent marketing expert and bestselling author Seth Godin. The free event, produced by Corvent in conjunction with SEMpdx, will focus on Seth's latest book, "Meatball Sundae: Is Your Marketing Out of Sync?"
Date: January, 15, 2008
Time: 1pm Eastern, 10am Pacific
Register: http://www2.eventsvc.com/corvent2/meatball?trk=corventpr
The webinar will revolve around 14 new trends that are changing the way marketers do business. Emerging technologies, new media and online capabilities have left many companies struggling to stay afloat, finding it difficult to combine new marketing strategies with older methods.
"A meatball sundae is the unfortunate and often disastrous combination of older organizations using new marketing techniques," says Godin. "Too often, the results are expensive and unappetizing. I am looking forward to offering strategies that will help companies avoid this common problem."
Seth Godin has authored numerous best-selling books, including "Purple Cow" and "The Dip". With over sixteen years of experience, Godin is a highly sought-after public speaker and was recently named "Most Important Marketing Guru" by eMarketer (November 30, 2007).
"As a marketing professional, I have found Seth's advice and insight indispensable over the years," says Monica Ellis, Marketing Manager at Corvent, LLC. "His books and blog should be required reading for every marketer."
"We are very excited to be able to partner with Corvent and bring Godin to the Portland community," says Kent Lewis, SEMpdx President. "Having been recently named a top marketing guru and being the Web's most popular marketing blogger, we are thrilled and honored that he's committed to presenting to the Northwest marketing community."
The live, one hour event will feature a Q&A period to address audience questions. For more information, and to register, visit:
http://www2.eventsvc.com/corvent2/meatball?trk=corventpr
About Corvent, LLC
Corvent delivers customized solutions to companies seeking to communicate more efficiently and more effectively through web conferencing and unified communications technologies. Corvent specializes in producing top notch web seminars on multiple web conferencing platforms and provides comprehensive event registration and reporting tools that supply aggregate attendee data and presentation-worthy reports. For more information on Corvent, LLC, please visit http://www.corventllc.com or call 877.217.5656.
About SEMpdx
Founded in 2006, SEMpdx is a non-profit trade association consisting of search engine marketing (SEM) professionals in Oregon and Southwest Washington. Through monthly events and an annual SearchFest conference, SEMpdx's mission is to put SEM on the map in Portland business community and Portland on the map in the SEM community. SEMpdx partners with other national associations and corporations to provide discounted resources for members and gives back to the local community through its Charity of Choice program. For more information, visit:
http://www.sempdx.org.
# # #