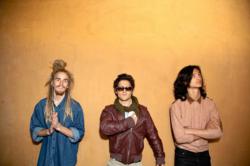 "the most exciting thing in Australian music right now" Studios 301
(PRWEB) July 06, 2011
On 19 June, Australian folk-pop trio Set Sail had their violin stolen from their London hostel. In order to replace the violin and fund the Americas leg of their tour, the band is eating rice for 28 days to raise money for the crowdfunded "Rice Up Your Life!" campaign.
Boasted as "the most exciting thing in Australian music right now," (Studios 301) the band follows an unique touring method that music technology company Ultimate Ears calls "... a new development model for independent artists..." The band has self-funded touring through eight countries in Asia and Europe without booking a single venue, instead staging and filming guerilla shows in locations ranging from aircraft cabins to skyscraper observation decks.
The tour will finish with a performance in Antarctica, making it the first tour to span all seven continents as well as the only concert tour to have taken place entirely outside of venues. Documentary filmmaker Damian Dekker is accompanying them for the duration of the tour filming their performances for The World Stage webseries as well as a feature-length documentary that will be released early 2012.
At the time of writing, The "Rice Up Your Life" campaign has raised $3,000 of it's $10,000 goal. The campaign – currently open for donations on crowdfunding platform IndieGoGo – will close July 18th. From July 26th, Set Sail will perform throughout North and Central America from a stage mounted on top of their tour van before donating the vehicle to charity in Panama.
###