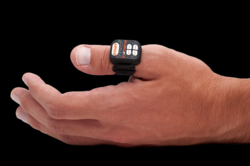 We created the Set Starter as an easy-to-use interval timer for most sports because it's so unobtrusive," said Eric DeRosa, founder.
RALEIGH, N.C. (PRWEB) July 10, 2012
Athletes and workout enthusiasts often use interval training to improve their fitness, burn fat and increase endurance. Though, timing technologies typically take the form of watches, belt-clip timers and other devices that encumber workout effectiveness. Set Starter, LLC recently introduced the world's smallest interval training timer to more effectively support these athletes in their fitness programs and workouts. The Set Starter is a small timing device that fits on the thumb and is used for fitness regimens such as running, weight training, rowing and cycling, among other activities. The product is available online for $39.99 at http://www.setstarter.com.
"Athletes and fitness buffs spend hours lifting weights, training and practicing to shape up, get fit and feel better," said Eric DeRosa, Set Starter founder and president. "Interval training can really maximize workout effectiveness with greater results in less time. So, we created the Set Starter as an easy-to-use interval timer for most sports and workouts because it's so unobtrusive."
Users of the Set Starter choose their time intervals, with completed stages indicated by any combination of an audible beep, LED light and/or silent vibration.
"By not consistently looking at a stopwatch during activity to count down time, Set Starter enables athletes to be their own coach," said DeRosa. "We go hard when it tells us to go hard. And, just as important, to rest when it's time to rest."
The Set Starter online store launched earlier this spring and has resulted in sales from across the U.S., as well as from Australia, New Zealand, Germany, Spain, Canada and Great Britain. Athletes, personal trainers and fitness bloggers continue to provide positive feedback.
The team at UsFitties.com was among the first to provide a comprehensive review, with positive results. Troy Pesola at CubeDwellerFitness.com recently provided a very thorough analysis of Set Starter in action.
Fitness trainer Suanne Rieker also gives Set Starter high marks, "I love the Set Starter. There is no doggin' it when that beep/vibrate goes off," said Rieker.
Set Starter's easy-to-use design does not require complicated setup. The timer features convenient, one-touch operation so athletes can accurately monitor their rest periods and fitness activity intervals.
Users indicate Set Starter is perfect for variable and high-intensity workouts that can include: running, cycling, weight lifting, soccer and football drills, inline skating, rowing, sprint intervals, walking, jump rope, box jumping, martial arts, plyometrics, among many other aerobic and anaerobic workouts.
Founder Eric DeRosa designed the Set Starter over a 10-year period of trial and error with the mindset to help athletes better monitor rest time between successive sets of exercise. Interval training is supported by science: intense exercise followed by short periods of rest can more efficiently build muscle, improve fitness and endurance as well as burn more fat.
DeRosa believes Set Starter helps eliminate distractions, "It can be used to keep workouts on track without the habit of clock-watching, which can reduce focus and workout intensity."
Thanks to adjustable-size straps, it fits comfortably on a thumb without interference and uses same-hand, index-finger activation. The variable alarm options – audible beep, visual LED light or silent vibration – help train athletes to avoid glancing at their stopwatch and stay focused on their workout.
The world's smallest interval training timer, Set Starter, LLC is available online at the company's website or Amazon.com for $39.99. Team discounts are available to coaches and organizations dedicated to group wellness and fitness, please call 919-417-5866 or email sales(at)setstarter.com.