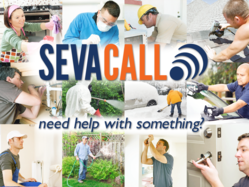 Allentown, Pa. (PRWEB) October 05, 2012
Seva Cal l, a virtual concierge service designed to match consumers with service needs to high quality local service professionals, is launching its service in the Allentown area. Seva Call finds the "right" professional by looking at a variety of factors including online ratings and reviews, social reputation and interaction, call analytics, and other forms of consumer and business feedback.
"With fall in full swing, and we know that many people are looking for all sorts of service help, whether it's yard cleanup, gutter cleaning, or even just preparing their homes for winter," says Seva Call CEO Gurpreet Singh. "Seva Call helps consumers limit time wasted searching for the right professional so they can get back to enjoying the wonders of fall."
Citizens of Allentown can now quickly connect with computer repair experts, roofers, accountants and more than 40 other industry categories. Consumers simply visit http://www.sevacall.com, enter their need, location and availability, and Seva Call does the rest. Within minutes, Seva Call will connect the consumer via telephone to up to three reputable businesses who can meet the exact needs of the consumer.
In Allentown's local phone directory, there are listings for almost 500 plumbers alone. Consumers spend valuable time researching and calling businesses trying to find one that meets their specific need, location, availability, and—above all—quality expectations. Seva Call instantly does the research and makes the calls on behalf of consumers. In an average of 97 seconds, consumers who submit a request on with Seva Call are connected via telephone to a professional who meets all of their personal needs and requirements.
Seva Call is simple for businesses as well. When Seva Call receives a request that matches a consumer to a particular business, the service is relayed to those businesses as a phone call, email, or a text messages. The businesses then have the opportunity to accept or reject the request based on factors such as availability, job details, and proximity.
Seva Call has already launched its service in Washington D.C. Philadelphia, Pittsburgh, and Baltimore. The company will also be releasing free iPhone and Android apps in the near future.