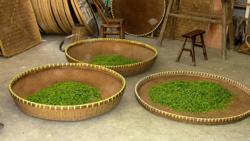 We are dedicated to growing the market for better quality tea
Tucson, AZ (PRWEB) April 27, 2011
Independent tea retailers and wholesalers around the world can now access rare handcrafted teas from remote areas of China, the homeland of the world's first and finest teas.
Seven Cups – an established Chinese tea purveyor based in Tucson, Arizona – recently launched an international brokerage service offering small tea companies access to its extensive network of connoisseur-quality teas direct from farmers in China at an affordable price and in manageable quantities.
Many of these teas have only been available to the Western world in the last 10 to 20 years. During that time, Austin Hodge, founder and president of Seven Cups, traveled throughout China and cultivated relationships with tea farmers who use traditional methods passed down through the centuries.
Today Seven Cups has solid relationships in China with tea producers, tea masters and government officials. This is the only American tea company to obtain a license to export tea directly from China with no middleman. This year, Seven Cups will be honored for its contributions to the puer tea market at the Fourth Annual Puer Tea Conference in Puer City, Yunnan.
"We are dedicated to growing the market for better quality tea," Hodge said. "We have built a very efficient supply chain from China, so we can sell at the same prices as Chinese wholesalers, without forcing customers to buy in huge quantities. We want to see small tea businesses like ours distinguish themselves by offering superior tea and an experience that big tea companies cannot match."
Sourcing from China is expensive and difficult, which puts direct sourcing out of reach of most small tea businesses, Hodge explained. Currently, most wholesale commercial-grade and specialty teas from China are purchased and shipped in semi-truck-sized containers to the United States and Europe, then flavored or blended to differentiate them upon arrival.
Seven Cups hopes that by offering this new sourcing option smaller tea companies will gain the edge they need to succeed – and be able to offer pure authentic high-quality tea for their clients, Hodge said. Instead of ordering thousands of kilos, they can select teas in much smaller quantities yet still pay wholesale prices.
"Small companies must compete by having better quality tea, period," Hodge contends. "There is nothing else that can distinguish them from the competition. This is especially true as tea drinkers become more sophisticated, and begin to question where their tea comes from and how it is produced."
Just in time for the 2011 tea harvest, small retailers and wholesalers can order authentic Chinese teas from Seven Cups' own hand-picked tea sources – more than 30 producers across 9 regions in China and Taiwan. Seven Cups helps customers plan their orders, which are then assembled and shipped directly from China to the customer's address anywhere in the world. More information is available at sevencups.com or by calling (866) 997-2877.
To date Seven Cups has sourced tea for European and South American retailers at better prices than if they were buying from a Chinese wholesaler, said Mikel Chertudi, general manager and point person for the new brokerage program. "Typical orders range from 30 to 75 kilos – small batches that are easier for retailers to finance and stock."
The company launched a pilot version of this brokerage service last year with select customers, in response to a flood of inquiries from tea companies that expressed frustration with what they found on the open market. "There was an overwhelming demand to purchase at a higher quality point, in manageable quantities, directly from China without having the expense of sourcing in China," Chertudi said.
"Most of the companies I talk to can't afford to order full containers from China. They wanted to source their own teas, but couldn't compete with the big guys on price," Chertudi said. "Now they can. This flexible micro-brokerage option works really well for them."
In addition to its exclusive tea network, Seven Cups offers access to its ever-growing bank of research on Chinese tea and tea culture to help retailers market and promote their new teas. Seven Cups is a member of the Chinese International Tea Culture Institute and Hodge is the first American to be published in their journal. The institute named him Honorary Director for his contributions to Chinese tea culture.
Seven Cups was founded in 2002 to sell Chinese teas to aficionados worldwide, opened its first teahouse in Tucson in 2004 and its first franchise in Denver in 2008. Today it sells tea to consumers in more than 50 countries. For more information, visit sevencups.com.
###