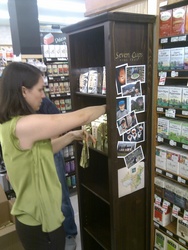 Our Whole Foods markets in Tucson are proud to partner with such a high integrity tea company...
Tucson, AZ (PRWEB) March 30, 2010
Seven Cups, a small tea company with an international following, has become a featured vendor at both Whole Foods Markets in Tucson. This new relationship with Whole Foods marks a milestone for Seven Cups. "For our company to be accepted by Whole Foods is a validation of our unique approach to sourcing and promoting traditional Chinese tea, an approach that goes against the grain of the established tea industry," said Austin Hodge, Seven Cups' founder.
Seven Cups' commitment to sourcing in China struck a chord at Whole Foods. Julie Hul, Whole Body Team Leader at Tucson's Oracle Road store, explains "Whole Foods has established itself as a leader in supporting small scale farm production." She adds, "Our Whole Foods markets in Tucson are proud to partner with such a high integrity tea company. Seven Cups teas are not only delicious, but beautiful as well!"
Seven Cups has a reputation for bucking trends. They source rare teas directly from traditional producers in some of China's most renowned (and hard to reach) gardens, rather than focusing on marketing and distribution in the United States. They also reject current market pressure to blend and flavor tea, because the company believes that good quality tea needs no alteration. Since Seven Cups prefers to remain small, rooted in sourcing tea and educating customers, some industry analysts, like those at Fresh Cup Magazine, see Seven Cups as "primarily still a well-kept secret."
The secret may soon be out. In 2008, Seven Cups became the first international tea company to be granted a Chinese Trading License, which gives Seven Cups complete control over its supply chain by removing the need to go through middlemen to export its teas from China. By law, in China, it is not possible to submit tea for inspection and export it without this license. The company's goal is to use this license to give its producers, most of which are quite small, access to markets outside of China.
"Working with such small producers makes it very difficult to serve a customer as large as Whole Foods," says Mr. Hodge, "But we're dedicated to helping our producers develop so they can meet the challenge." He hopes that growing international demand for high quality, traditional Chinese teas will continue to benefit the workers and communities that produce these teas.
"We feel that Whole Foods will be a good partner in supporting small-scale, sustainable agribusiness. This has been our guiding principle in developing our business and we're very excited that Whole Foods has been so supportive," he adds.
# # #