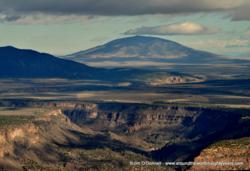 Adventures you won't want to miss
Santa Fe, New Mexico (PRWEB) May 21, 2013
Tour operator Seven Directions has been taking travelers to special places around the Southwest for nearly 10 years, particularly New Mexico. This spring, owner Patrizia Antonicelli added several new in-depth adventure tours to her extensive roster of cultural and sustainable explorations. New guided hiking tours include unique landscapes such as Chaco Canyon, El Morro and the new Rio Grande del Norte National Monument.
After many years of conservation effort by a broad coalition of New Mexicans, and weighing in at nearly a quarter million acres, the new Rio Grande del Norte National Monument includes some of the most dramatic scenery and rare wildlife of Northern New Mexico.
For summer, Seven Directions has also added agritourism to farms in and around around Taos and Northern New Mexico, including the landmark sustainability farm at the Red Willow center on Taos Pueblo.
"Experiencing New Mexico isn't just about how gorgeous the landscape is," says Antonicelli. "There's so much to learn here and truly, no other place I can think of that is as authentic; it is unlike any place else. I find adventures for clients that are not just tromping through the landscape, but are about learning and seeing more clearly."
The new national monument extends from Pilar, New Mexico north to the border of Colorado and at its center is the Rio Grande gorge. The 800-foot canyon walls show earth's journey through time. Tours set out along the river, the high edge of the gorge or across the volcanic plateaus and include sites where one might glimpse ancient Native American petroglyphs on the rocks, witness class V rapids, or spot otters cavorting in the water or a herd of Rocky Mountain big horn sheep perched high on the gorge's canyon walls.
The El Morro tour includes unique lava fields and rock formations in El Malpais, as well as ancient mesa top cultures where the ancestors of the Zuni people lived, plus visits to the nearby Wild Spirit Wolf Sanctuary and Acoma Pueblo, dating to 1150 C.E. Chaco Canyon's historic significance is steeped in mysteries about its purpose and why it was abandoned. Visitors often drive to ancient sites. But with a guided hike, they feel connected to the context of the place and to the land itself.
One to two-day excursions are being added through the season.
Seven Directions adventures involve high levels of interaction and intimacy giving guests authentic experiences of New Mexico landscapes and culture. Expert guides lead each adventure, all are well educated about the area's attractions because they are immersed in the region's culture and ecosystems. As a proponent of ecotourism, Antonicelli wants not only to share her love of New Mexico's unusual and pristine places, but to help preserve them as well.
Often, ecotourism takes place in fragile landscapes, where impact has been minimal and travelers and locals alike would like it to stay that way. With an experienced guide, visitors explore beautiful spots and see rare species, but they also leave better informed and with a sense of what it takes to preserve such places for generations to come.
One of the guides to the Rio Grande Del Norte National Monument is Jim O'Donnell--a photographer, writer, wilderness advocate, archeologist and adventure travel blogger in Taos. He was one of the first to propose the landscapes of the Rio Grande gorge and adjacent plateau as a conservation area, leading ultimately to the passage of President Obama's proclamation this past March of national monument status.
Sharon Leach is an environmental journalist, as well as publisher and editor of the Mesa Green Guide for Northern New Mexico, a magazine devoted to the sustainability of the region.
"My inspiration is the rafter culture here, like Steve Harris, aka 'The Old Man' of Far Flung Adventures," says Leach. "He's been working on restoring and protecting the Rio Grande for many years, and he has a way of teaching river ethics while making it fun and thrilling to explore what the landscape offers. That kind of guide is great for visitors and good for the land and people here."
Seven Directions works directly with local cultural and food experts, farmers, outfitters and sustainability leaders to give visitors a richer experience. This collaboration supports the local economy.
For further information and media inquiries: Patrizia Antonicelli – Tel.505.820.3305
About Seven Directions Tours:
Background:
Seven Directions' logo was created by Native American designer Paul Rangel who explains the meaning behind the term:
"The six directions, the four cardinal points plus zenith (above) and nadir (below) permeate traditional Native American thinking and activities. Depending on the tribe or pueblo, the directions are associated with specific colors, corn, animals, birds, mountains, plants, trees, stones and spirits. In sprinkling meal, pollen, other offerings or smoking rituals with the sacred pipe and in ceremonies and ritual games the directions are observed."
The seventh direction represents the centre, the spirit or soul within. Every direction is to be honored in order to receive protection, guidance, and healing and to draw sacred energies into one's life.
Seven Directions | Cultural and Sustainable Tours has established itself as one of the finest sustainable tour operators in the Southwest. They facilitate exceptional tours that create a memorable and authentic experience that is relaxing and profound in every respect. Seven Directions Tours caters to a wide-ranging audience that seeks a hands-on experience by putting them in touch with the landscape and the people. Clients learn salient information in the comfort of a tour they can customize. Seven Directions Tours can accommodate large and small groups, and individuals. They also specialize in Fly & Drive programs that clients can take on by themselves. To learn more about Seven Directions visit them at http://www.sevendirections.net
###