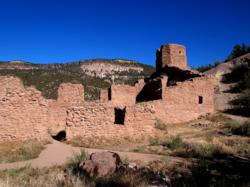 A profound experience
Santa Fe, New Mexico (PRWEB) December 12, 2012
Seven Directions Custom Tours presents a new day-long experience on Three Kings Day, as the Epiphany is called in New Mexico, which combines different aspects of Pueblo culture with stunning New Mexico landscapes.
The day begins at 8.30 with a hefty breakfast at one of Santa Fe's beloved restaurants, famous for its creative organic cuisine, to pick up the energies for this long excursion.
Inspiring drives through amazing rock formations and colorful scenery, century old exceptional frescoes detached from an old kiva, the traditional Pueblo ceremonial chamber, and in-depth discussions with the guide will help immerse oneself in the local Native American culture and their landscapes rich of mountains, hills, and canyons.
The focus of this day is on the ceremonial dances taking place at a Northern Pueblo, one of New Mexico's 19 Native American villages. Winter dances are usually for the hunt: prayers for abundant game and for a successful hunting season. Buffalo, dear, eagle and other animals are impersonate by the dancers with appropriate costumes and headdresses. Architectural historian Vincent Scully wrote that the dances were ''the most profound works of art yet produced on the American continent.''
At the pueblo there will be opportunities to visit with local artists and, thanks to their generosity toward visitors, a delicious meal can also become part of the experience.
Another exceptional visit to an early 17th century Franciscan mission church and to the ruins of a 500 year old Indian village built in a narrow canyon by the ancestors of the present-day people of the pueblo.
On the way back to Santa Fe, where they will arrive just before 6pm, travelers will enjoy an enchanting view over a million year old volcanic caldera where today wildlife is abundant.
For this extraordinary experience SD offers a New Year's discount to the first four callers. Please call for details.
Private transportation is on request.
For further information and media inquiries: Patrizia Antonicelli – Tel.505.820.3305
About Seven Directions Tours:
Seven Directions | Cultural and Sustainable Tours has established itself as one of the finest sustainable tour operators in the Southwest. They facilitate exceptional tours that create a memorable and authentic experience that is relaxing and profound in every respect. Seven Directions Tours caters to a wide-ranging audience that seeks a hands-on experience by putting them in touch with the landscape and the people. Clients learn salient information in the comfort of a tour they can customize. Seven Directions Tours can accommodate large and small groups, and individuals. They also specialize in Fly & Drive programs that clients can take on by themselves. To learn more about Seven Directions visit them at http://www.sevendirections.net
###