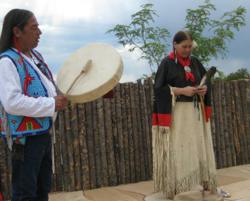 One-of-a kind events and weddings created and designed for each occasion
Santa Fe, New Mexico (PRWEB) July 17, 2012
Seven Directions Tours announces new emphasis on its Customized Events and Services division. After winning an important event for an international association of top business executives from around the world and other new clients searching for high-end personalized services, the company has strengthened this business unit to address this interesting scene.
The company is known for its creative and personalized approach in tours' development. The same philosophy applies when designing and planning events in order to always deliver unique and special experiences to corporations and private groups alike.
With a commitment to flexibility and superior quality, Seven Directions tailors its white glove services and event planning to suit the clients' goals, diverse personalities, discerning tastes and one-of-a kind requests. Attention to details, original solutions, excellent customer service, and a constant focus on the budget are the ingredients that ensure a memorable experience.
Santa Fe and Taos, in Northern New Mexico, have such a distinctive ambience and natural settings that are now among the most desirable destinations for events and weddings. Inspired by the local Native American and Hispanic cultures as well as Western lore traditions, people are increasingly interested in incorporating some elements of these significant influences in their events.
A special event area is dedicated to Wild West Luxury. Each state within the Southwest region provides its own natural getaway and contribution to this different style of luxury. Together they create an intriguing confluence where the Wild West draws upon culture and nature to deliver for each event the means to enjoy something that is all encompassing and has no equal, combining pampering and culture, activities and beauty, and experiences that peak all the senses.
From Incentive Corporate Travel to Celebrations, Awards, Team Building Program, and Film Industry Services as well as from Weddings, Elopements, and Honeymoons to Friends and Family Reunions, Anniversaries, and Private Parties, the quality of Seven Directions' planning process is always consistent to its promise.
Any event comes full circle with the comfort and hospitality offered by magnificent resorts, secluded lodges, exclusive ranches, charming inns and private homes and villas with the flavors created by renowned chefs and their traditional and inspired cuisines. Adding to these environs is a wealth of unusual shopping, arts and entertainment, everything organized with a personal touch.
For further information and media inquiries: Patrizia Antonicelli – Tel.505.820.3305
About Seven Directions Tours:
Seven Directions | Cultural and Sustainable Tours has established itself as one of the finest sustainable tour operators in the Southwest. They facilitate exceptional tours that create a memorable and authentic experience that is relaxing and profound in every respect. Seven Directions Tours caters to a wide-ranging audience that seeks a hands-on experience by putting them in touch with the landscape and the people. Clients learn salient information in the comfort of a tour they can customize. Seven Directions Tours can accommodate large and small groups, and individuals. They also specialize in Fly & Drive programs that clients can take on by themselves. To learn more about Seven Directions visit them at http://www.sevendirections.net
###