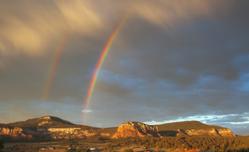 The devil is in the details. Personal touches make all the difference
Santa Fe, N.M. (PRWEB) April 24, 2012
Personally crafted unusual honeymoons create the memories of a lifetime. Seven Directions Custom Tours suggests following on the steps of remarkable women, world acclaimed artists and movie stars and discover the spirit and beauty of the New Mexican unique land and skies on a memorable honeymoon in the Land of Enchantment.
May, June, September, and October are perfect honeymoon months because the climate is mild, the sun doesn't blur the colors and photography is at its best, the most romantic and quaint Bed and Breakfasts or resorts still have some rooms, and, most importantly, honeymooners can almost feel like they are the only ones on earth if they receive insider information about places not on the common tourist's list.
No pre-packaged programs but something to suit the taste and desires of the couples on this once-in-a-lifetime exciting journey is at the core of the tour operator's philosophy. Seven Directions Custom Tours understands that honeymoons are a serious and very personal matter and knows how each ingredient and detail is important. A simple three-step approach makes all the difference:

Assessment. Extensive interviews to understand the couple's interests, wishes, dreams, priorities, inclinations, and budget
Planning. Comments and proposals with educational information about the range of choices for each item on the Wish List. It includes the kind of preferred accommodation and daily activities, from sitting around a pool to horseback riding, the car honeymooners likes driving (keeping in mind that there are dirt roads on the way to gorgeous places), culinary preferences, balance between organized and free time and escorted and on own excursions, and special interests. The devil is in the details, so the list goes on; the smallest things can make the biggest difference.
Turn-key. No surprise and no decisions await the honeymooners once they are in New Mexico. Their informational and illustrated Honeymoon Booklet has all the information to make their honeymoon simple and easy.
"We particularly enjoy –says Patrizia Antonicelli, owner and founder of Seven Directions Custom Tours- establishing a relationship with the couples and creating for them something they would never dream of."
Nature plays an important role in this fascinating Western state where mountain ranges, high desert landscapes, rivers, colorful rock formations and wildlife are all around. Therefore, including two nights of the honeymoon program at a magical natural site along a tranquil river creates that special experience honeymooners are looking for. One can enjoy comfortable canvas walled tents, soft sheets and pillows, three delicious meals a day, and great outdoors adventure of their choice.
New Mexico lends itself to romanticism and profound feelings. The choreography is a given, complete with dramatic sunsets and natural wonders. The advice and intelligence of the honeymoon planner is what brings all alive.
For further information and media inquiries: Patrizia Antonicelli – Tel.505.820.3305
About Seven Directions Tours:
Seven Directions | Cultural and Sustainable Tours has established itself as one of the finest sustainable tour operators in the Southwest. They facilitate exceptional tours that create a memorable and authentic experience that is relaxing and profound in every respect. Seven Directions Tours caters to a wide-ranging audience that seeks a hands-on experience by putting them in touch with the landscape and the people. Clients learn salient information in the comfort of a tour they can customize. Seven Directions Tours can accommodate large and small groups, and individuals. They also specialize in Fly & Drive programs that clients can take on by themselves. To learn more about Seven Directions visit them at http://www.sevendirections.net
###