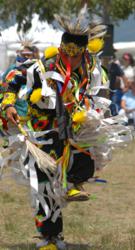 New Mexican summers are filled with unique events found nowhere else
Santa Fe, New Mexico (PRWEB) May 09, 2012
In the Land of Enchantment summers are hot, in many ways. Father Sun is out there all the time but the dry air allows enjoying it without any consequence.
June 21st, the official beginning of summer, is around the corner. Now is the perfect time for travelers and vacationers to plan for an exciting vacation and enjoy a full immersion in the exciting culture of this unusual state.
In New Mexico the summer is also that time of the year when
1. Lively festivals
2. Unique events
3. Pueblo Indian dances and PowWow
fill up the calendar. If someone is interested in an event or festival Seven Directions can give them an insider perspective and make sure they meet the most interesting artists, dealers or vendors.
There is a fourth reason to visit in the summer when evenings can offer the most spectacular show right up in the sky: lightning storms and blood-red sunsets.
Seven Directions, that specializes in custom designed vacations and tours, can create the most intriguing program combining the different ingredients of culture and adventure with cuisine and relaxation.
The à la carte menu can mix morning adventures in the white waters of the Rio Grande with afternoons visiting the most beautiful Indian village, Taos Pueblo and its artists, and an exciting dining experience in a restaurant offering exquisite organic home cooking. Another choice is a walk through a wilderness area with an array of amazing centuries old rock art surrounded by stunning vistas followed by cultural adventures through unique museums whose focus ranges from the mysterious nuclear epic history to a collection of Navajo saddle blankets, to then wind down at local wineries to sip some of the great local wines under a sheltering ramada.
The menu one can chose from also includes visiting one of the nineteen pueblos during their genuine religious expressions embodied in the Pueblo Ceremonies mostly dedicated to the crops and harvest and rooted in the ancestor's knowledge and beliefs. Something that is heart lifting and fun is dancing with the locals on the 400 year old Spanish Plaza of Santa Fe at the music of fantastic musicians playing in the Bandstand. A night under the stars in the middle of the largest white sands desert won't be easily forgotten.
How to prepare for this vacation: any program should be carefully timed around the attractions and reservations made ahead of time; visitors must know that shopping is a huge temptation; hat and sunscreen are a must.
For further information and media inquiries: Patrizia Antonicelli – Tel.505.820.3305
About Seven Directions Tours:
Seven Directions | Cultural and Sustainable Tours has established itself as one of the finest sustainable tour operators in the Southwest. They facilitate exceptional tours that create a memorable and authentic experience that is relaxing and profound in every respect. Seven Directions Tours caters to a wide-ranging audience that seeks a hands-on experience by putting them in touch with the landscape and the people. Clients learn salient information in the comfort of a tour they can customize. Seven Directions Tours can accommodate large and small groups, and individuals. They also specialize in Fly & Drive programs that clients can take on by themselves. To learn more about Seven Directions visit them at http://www.sevendirections.net
# # #