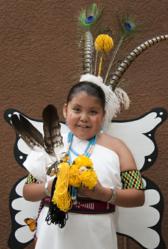 An exciting collaboration that combines photographing and sightseeing
Santa Fe, NM (PRWEB) September 25, 2012
Seven Directions Custom Tours has added a new creative resource, professional photographer Angel Wynn, to offer innovative photography experiences to its offerings.
New Mexico offers endless possibilities for taking stunning photographs. From spectacular landscapes and historic missions to colorful fiestas and world-class archeological sites all located within the Land of Enchantment. The state offers 4 distinct seasons, so photo opportunities abound all year long.
New Mexico has nineteen pueblo villages, one Navajo, and two Apache reservations, as well as ancient Puebloan villages inhabited centuries ago, with architecture of adobe brick dwellings and underground kivas, that offer a variety of photographic inspiration. . Participants have the chance to experience a specific tribe's history, legends, perhaps a taste of their traditional foods or watch an artisan work at their craft in rustic surroundings.
For the past 20 years Wynn's photographic specialty has been focused on American Indian traditional cultures and contemporary lifestyles. With the world's most comprehensive picture collection of its kind, Wynn's images have been featured in magazines and have graced covers of books printed by the who's who in publishing such as Time-Life, Simon & Schuster, National Geographic and Sunset Magazines.
Wynn guides both beginner and expert photographers through the Land of Enchantment's Native heritage, sharing her top two passions, to experience First Nations cultures and to document awe-inspiring pictures. Armed with her cameras and sense of humor, Wynn visits tribal communities with great compassion and understanding. This helps her to meet and photograph many tribal members, their customs and the unique surroundings.
Packed with helpful tips, Wynn will advise participants on how to find perfect shots and how to take them using available light. Participants are guaranteed to take home memorable images of their trip to New Mexico.
Off the beaten track yet with easy access, photo excursions can be personally tailored. Wynn guides both beginner and expert photographers through the Land of Enchantment's Native heritage, sharing with you her top two passions, experience First Nations cultures and document awe-inspiring pictures.
Traditionally dressed Native American models are available for hire to help create one-of-a-kind photographs that give the impression of time past. Other noteworthy photo-ops to stir up a photographer's enthusiasm are pictographs painted on rock walls, awe-inspiring sunsets, handmade Indian arts and crafts and superb dancers at a cultural center.
After photographic treasures have been captured by the participants' camera, how about adding on a photo workshop? For instance, learning a photo program to organize and enhance photos, how to make a book or creating a slideshow using images with music. Creative classes are also available on how to make artwork from photographs by using processes such as the Encaustic application of beeswax or using mixed-media to create photo collages. Demonstrations can also be tapered for participants who would like their photographs to look as though they were captured over 100 years ago by making digital prints with an antique brown and gold-tone look.
Every outing can be customized to a participant's interests and photographic skills. The length can be from half-day to several days long. Workshop sizes can range from private instruction with one person all the way up to a group of 12 individuals. Camera equipment brought by individuals can range from a point-and-shoot to a 35mm digital SLR camera. Even a simple smart phone. A more intensive workshop may require that participants bring a laptop. Almost all sessions ask that participants bring their imagination.
The digital camera offers endless creative opportunities. Explore techniques of composition and lighting to create more interesting and powerful images. Professional photographer Angel Wynn provides an energetic and supportive atmosphere. New Mexico offers spectacular scenery and diverse cultures. Seven Directions Custom Tours offers all levels of photo enthusiasts an opportunity to experience an extraordinary creative journey.
About Seven Directions Tours:
Seven Directions | Cultural and Sustainable Tours has established itself as one of the finest sustainable tour operators in the Southwest. They facilitate exceptional tours that create a memorable and authentic experience that is relaxing and profound in every respect. Seven Directions Tours caters to a wide-ranging audience that seeks a hands-on experience by putting them in touch with the landscape and the people. Clients learn salient information in the comfort of a tour they can customize. Seven Directions Tours can accommodate large and small groups, and individuals. They also specialize in Fly & Drive programs that clients can take on by themselves. To learn more about Seven Directions visit them at http://www.sevendirections.net
###