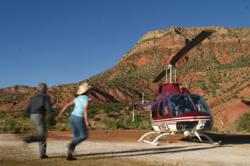 A luxury vacation that peaks all the senses
Santa Fe, New Mexico (PRWEB) August 07, 2012
The new Wild West Luxury vacation introduced by Seven Directions Custom Tours is an experience not be missed.
Whether one begins the Á la Carte Sojourn at an extraordinary resort in the Utah desert or at a very exclusive ranch resort in Colorado, Seven Directions Custom Tours can design the ultimate luxury Southwestern experience to address the special interests and dreams for this kind of vacation.
The region we still like calling the Wild West for reminiscing of a time often romanticized by books, movies, and fantasies, is famous worldwide for its nature, topography and environments that are the most unrestricted, mysterious and inspiring that can be found throughout the globe. With dramatic canyons, looming mountain ranges and free flowing rivers, the Southwest is also rich of forests and clear star filled skies. But it's not the place that comes to mind when one tries to envision luxury. This is not true anymore. Today, in the West one can enjoy a kind of luxury that is not only offering out-of-this-world resorts, excellent service, pampering, and entertainments, but an experience that peaks all the senses.
Each state within this special region provides its own natural getaway and contributions to this different style of luxury. Together they create an intriguing confluence where the Wild West draws upon centuries of history, multiple cultures, artistic traditions, and amazing sceneries to deliver for each visitor the means to find and enjoy an unforgettable vacation. Á la Carte Sojourns. Your Way sketches what a luxury vacation in New Mexico can offer.
Invariably, one leaves behind the stress and worries to assimilate and appreciate what's around and soon begins feeling the power of the land, the beauty of a spectacular sunset, the stunning shapes of rocks and petrified dunes, and the majesty of wildlife while discovering a way of life and ancient cultures that allow for a true vacation of the mind and the soul.
The experience comes full circle with the comfort and hospitality offered by magnificent resorts, secluded lodges, exclusive ranches, charming inns and one-of-a-kind private homes and villas and the flavors created by renowned chefs and their traditional and inspired cuisines.
A wealth of unusual shopping opportunities, art galleries among the best in the country, Native American traditional dances, and customized adventures in the sky, rivers and canyons contribute even further to an exceptional fulfilling vacation.
Seven Directions specializes in creating and organizing exclusive luxury experiences designed to accommodate desires and interests and to suit the whim of its guests.
For further information and media inquiries: Patrizia Antonicelli – Tel.505.820.3305
About Seven Directions Tours:
Seven Directions | Cultural and Sustainable Tours has established itself as one of the finest sustainable tour operators in the Southwest. They facilitate exceptional tours that create a memorable and authentic experience that is relaxing and profound in every respect. Seven Directions Tours caters to a wide-ranging audience that seeks a hands-on experience by putting them in touch with the landscape and the people. Clients learn salient information in the comfort of a tour they can customize. Seven Directions Tours can accommodate large and small groups, and individuals. They also specialize in Fly & Drive programs that clients can take on by themselves. To learn more about Seven Directions visit them at http://www.sevendirections.net
# # #