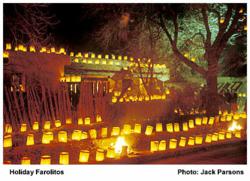 An exciting Christmas vacation in Santa Fe and tour to New Mexico wonders.
Santa Fe, New Mexico (PRWEB) October 11, 2011
Seven Directions Tours announces the availability of its custom White Christmas tour where visitors can enjoy both the snow-capped majestic mountains surrounding Santa Fe and the pleasant sunny days of Southern New Mexico.
A five to seven days vacation allows breaking away from a pressured daily life and experiencing a different Christmas in the 400 year old capital. Santa Fe, literally holy faith in Spanish, was originally occupied by a number of Pueblo Indian villages dating back between 1050 and 1150. The old world charm is still preserved amidst the contemporary and thriving art scene that has made Santa Fe the artisans' mecca of the Southwest.
Christmas Eve is especially noteworthy, in that people can participate with the local community and join the long queue of strollers on the Canyon Road Walk. This historic neighborhood of the city features some of its most famous art galleries and the oldest charming adobe houses. Every building is decorated with typical farolitos, a small paper lantern with candles carefully placed in sand inside a bag, outlining the ancient walls.
The unique Santa Fe cuisine recently placed among the top ten cities in USA by Trip Advisor is another reason for visiting during the Holidays where each and every restaurant goes out of its way to serve unforgettable dishes. Since last summer at least five new restaurants have joined the town's vibrant food scene.
Christmas is also the season of the most impressive Pueblo Ceremonial dances. Usually winter dances are intended for a successful hunt, with prayers for abundant game for survival. These animal dancers depict bison, turtles, eagles or deer effigies. Other dances are reminiscent of Spanish traditions.
Among the southern marvelous places, Bosque del Apache is one of New Mexico diverse natural treasures. At the first sun ray millions of geese and wild birds take off from this natural oasis to only come back at sunset. Further south White Sands National Monument, the largest white dunes desert in the world, opens its 275 square miles to climbs and slides, and absolute awe.
A typical New Mexican dinner in the old border village of La Mesilla, purchased from Mexico in 1854, and other extraordinary stops along the way back to the airport, round-out a very different Christmas experience in the Land of Enchantment. Seven Directions Tours incorporates its clients' interests to customize the itinerary to reflect their desires.
For further information and media inquiries: Patrizia Antonicelli - Tel.505.820.3305
In its seven years of operation, Seven Directions | Cultural and Sustainable Tours http://www.sevendirections.net has established itself as one of the finest sustainable tour operators in the Southwest. It facilitates exceptional tours which create a memorable and authentic experience that is relaxing and profound in every respect. Specifically, Seven Directions Tours caters to a wide-ranging audience that seeks a hands-on experience that puts them in touch with the landscape and the people. What its clients learn is salient information in the comfort of a tour they can customize. Seven Directions Tours caters to large and small groups, and individuals. It also specializes in Fly & Drive programs that clients can take on by themselves.
###