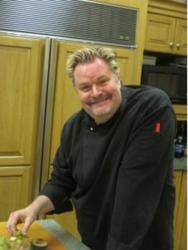 With Chef Johnny Vee one learns to appreciate the rich and diverse New Mexican cuisine
Santa Fe, New Mexico, November 8 , 2011 (PRWEB) November 10, 2011
A truly unique edible adventure designed and organized by Seven Directions Tours to learn about and enjoy the ancient and distinctive cuisine and flavors of New Mexico. The long culinary weekend getaway in Santa Fe offers some quality time with Chef Johnny Vee during a morning class and lunch dedicated to the Southwestern cuisine and a dinner at an historic hacienda, designed around the three cultures of New Mexico, Native American, Spanish-Mexican, and Anglo, that also make up the rich culinary history of the region.
Guests will enjoy three nights either at the newly renovated Hotel Chimayo de Santa Fe or at the historic Hotel St.Francis listed on the National Register of Historic Places, both a step away from the Plaza.
Johnny Vee's career spans from New York, to Australia, and now Santa Fe. He teaches and cooks-along with his unique humor and contagious smile. The want-to-be cooks will experiment with Johnny's valuable food preparations techniques by chopping, tasting, and mixing the special ingredients and finally sitting down to enjoy their custom designed meal. Local wines and margaritas are an important part of the experience.
The many local wines and bubbling champagne have an interesting story. The original tendrils came to New Mexico with the catholic friars, who followed the Spanish expeditions of over four hundred years ago, and needed to have wine available for their Mass. This spiritual beginning led this state to become the oldest commercial wine-growing region in the United States.
Santa Fe, among the top ten food destinations in the U.S. is widely recognized for its restaurants and innovative cuisine that yet never forget the special influence of the original local flavors. At the Farmers' Market one can peruse through the bounty of indigenous vegetables, fruits and chiles that are the base for the healthy dishes served around town. Visitors can also enjoy the life and culture of the 400 year old City Different voted third by Condé Nast Traveler magazine's worldwide readers as their favorite destination in the U.S for Atmosphere/Ambience, Culture/Sites, Friendliness, Lodging, Restaurants, and Shopping . Even more important is its second U.S. position in the world's finest air recent report from WHO.
At home participants will be able to keep experimenting with Chef Vee's recipes and remember the tastes of New Mexico by browsing through the signed book they will take back with them, together with some other culinary memories.
Embark on a journey with Seven Directions Tours and dive into a cuisine that is nationally rated among the best!
For further information and media inquiries: Patrizia Antonicelli – Tel.505.820.3305
In its seven years of operation, Seven Directions | Cultural and Sustainable Tours has established itself as one of the finest sustainable tour operators in the Southwest. It facilitates exceptional tours which create a memorable and authentic experience that is relaxing and profound in every respect. Specifically, Seven Directions Tours caters to a wide-ranging audience that seeks a hands-on experience that puts them in touch with the landscape and the people. What its clients learn is salient information in the comfort of a tour they can customize. Seven Directions Tours caters to large and small groups, and individuals. It also specializes in Fly & Drive programs that clients can take on by themselves.
###