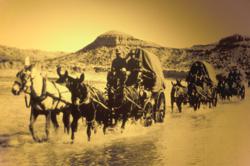 His home (Kit Carson's) for the past twenty years was now part of America.
Read more on the definitive book "Blood and Thunder" by Hampton Sides.
Santa Ge, New Mexico (PRWEB) March 27, 2012
Seven Directions Custom Tours announces a new tour through the country that saw some of the most significant events of the West expansion. Famous characters like Kit Carson and Lucien Maxwell, Old West emperor of the largest land grant of all times, untamable women, and the fascinating history of the 19th century become alive during this six day long trip.
Headquartered at Cimarroncita Historic Ranch Retreat guests will enjoy evening campfires and western music.
"The atmosphere of this part of New Mexico –says Patrizia Antonicelli, owner of Seven Directions Tours-has not changed and one can feel the ghosts of celebrated and notorious figures whispering among the walls of the historic Hotel St.James Hotel in Cimarron."
One day is dedicated to Taos Pueblo, the most beautiful of all the Indian villages of the state. It is still inhabited today and in one of the pueblo's homes guests will savor a genuine Native lunch. The day continues with visits to the exceptional museums of this small mountain town where they will discover the extraordinary history of Southwestern art.
Between the various visits there will be stops at ghost towns with memories and vestiges from the local golden rush, a bird sanctuary, and the bison pastures of one of Ted Turner's ranches.
On the way to Santa Fe, other famous sites are on the program: Fort Union, an important defense against Indian raids and later during the Confederates' invasion of New Mexico; the tiny village of Watrous, the major stop for materials headed for Fort Union, just a few miles north of town on the Mountain Branch of the Santa Fe Trail, at the times when the Atchison, Topeka and Santa Fe Railroad came through in 1880-81. Another historic town is Las Vegas with its distinctive Victorian stone architecture that grew to reach over one thousand people by 1860 to quadruple that number when the railroad based here an important station and helped the town established itself as a major trade center. The last visit is at the ruins of an ancient pueblo, where the inhabitants, the Pecos, were among the first to be visited by the Spanish conquistadores.
The time in the oldest capital of the country, Santa Fe, includes an evening at the spectacular Opera open air theater.
This a really fun and unique way to enjoy a 4th of July.
From July 3 to 8, 2012.
For further information and media inquiries: Patrizia Antonicelli – Tel.505.820.3305
About Seven Directions Tours:
Seven Directions | Cultural and Sustainable Tours has established itself as one of the finest sustainable tour operators in the Southwest. They facilitate exceptional tours that create a memorable and authentic experience that is relaxing and profound in every respect. Seven Directions Tours caters to a wide-ranging audience that seeks a hands-on experience by putting them in touch with the landscape and the people. Clients learn salient information in the comfort of a tour they can customize. Seven Directions Tours can accommodate large and small groups, and individuals. They also specialize in Fly & Drive programs that clients can take on by themselves. To learn more about Seven Directions visit them at http://www.sevendirections.net