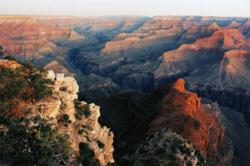 The most inspiring natural and cultural sites of the American Southwest
Santa Fe, New Mexico (PRWEB) May 26, 2012
Recently an USA Today article suggested five reasons why one should visit New Mexico. All five are good reasons –archaeology, Native American communities, museums, resorts and spas, outdoor recreation- but Seven Directions Custom Tours offers another important reason to visit: the UNESCO World Heritage Sites. Three of the world's 936 sites, and counting, are in New Mexico, one in Colorado, and one in Arizona. This truly makes a visit to the American Southwest incredibly attractive.
Seven Directions will lead a tour in October when the colors are at its best.
To put it simply, UNESCO preserves nature or man-made sites around the world that are important for humankind's knowledge and enjoyment, and will be so for millennia to come. Anyone who visits the Athens' Acropolis, the Taj Mahal in India or the Egyptian Pyramids undoubtedly immerse him or herself in their history, discover the power of human minds, as well as nature's amazing creations and beauty and comes away knowing that he or she participated in a life-changing experience.
In today's fast-paced world we know that time can be an issue. Most recent domestic travel trends show that a weeklong trip is what people prefer. This tour to five heritage sites may take a little longer as distances in the Southwest are significant. The approximate 1,500 miles itinerary, from southern New Mexico's Carlsbad Caverns, to Taos Pueblo, Chaco Culture National Historical Park, Mesa Verde in Colorado and the Grand Canyon in Arizona requires at times quiet moments to allow absorbing the messages and emotions all these sites can convey.
Seven Directions can customize the tour in order to accommodate interests, time, and budgets.
Along the way there are other fascinating things to see and do, like visiting trading posts and Native American villages, hiking in a pristine environment and stopping at other interesting locations that together make the Southwest such a magnificent area.
On these kinds of cultural and adventure tours it is important to use Seven Directions' knowledgeable educators who can introduce one to the fascinating century old history, to the importance of geology, and help meeting people who have their own stories to tell.
The best seasons for visiting these areas are spring and fall.
For further information and media inquiries: Patrizia Antonicelli – Tel.505.820.3305
About Seven Directions Tours:
Seven Directions | Cultural and Sustainable Tours has established itself as one of the finest sustainable tour operators in the Southwest. They facilitate exceptional tours that create a memorable and authentic experience that is relaxing and profound in every respect. Seven Directions Tours caters to a wide-ranging audience that seeks a hands-on experience by putting them in touch with the landscape and the people. Clients learn salient information in the comfort of a tour they can customize. Seven Directions Tours can accommodate large and small groups, and individuals. They also specialize in Fly & Drive programs that clients can take on by themselves. To learn more about Seven Directions visit them at http://www.sevendirections.net
###