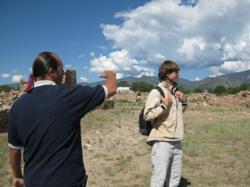 Our whole world around us is our religion -- our way of life is our religion. Porter Swentzell, historian and tour guide at Puye Cliffs, Santa Clara Pueblo, N.M.
(PRWEB) November 22, 2011
Seven Directions Tours makes sure that every itinerary it designs follows its proprietary ACLE (Authentic, Creative, and Learning Experiences) approach. This means that each step of the program goes beyond the manufactured elements featured in tourist brochures to instead include visits and interactions with local people to live and hear the real essence and history of the place.
Niche Tourism in Seven Directions Tours' view exactly addresses the need for a deeper connection with a place through meaningful personal experiences. This is a broader interpretation than the common one stating that it's a branch of the industry that focuses on a variety of special interests. A comprehensive list of special interest tourisms can be found searching for adjectival tourisms in Wikipedia.
Travelers' interests are indubitably a key element in developing niche programs, but represent only a part of the whole experience.
The world is changing, travelers' expectations change too. Most of today's travelers know that sustainability and minimizing the carbon footprints are key factors in selecting a trip, that authenticity is no longer an option, and that meaningful contacts with local communities are as important as traveling to awe inspiring sites. This is the premise to the guidelines of the ACLE approach.
Serious travelers also recognize that deals are seldom the best choice. By surfing the World Wide Web searching for deals one usually finds standard packages that at the end of the trip only leave a blurred memory of beaches, temples, deserts, and jungles.
Rather, increasingly travelers look for a valuable experience, a fundamental guiding concept underlying every Seven Directions Tours' custom designed program. They are ready to invest in non fabricated experiences. Indeed a growing number of travelers are no longer passive spectators but search for inspiring engagements. A highly priced program doesn't necessarily guarantee the trip's value. It may offer comfort and luxury.
Among tourism's trends for the next decade, those that appear to be featured in most marketing researches are Educational, Cultural, Eco-Tourism, Creative, and Local Travel.
Niche Tourism, as interpreted by Seven Directions Tours, seems to encompass most of these trends. It values the environment and the cultural resources of places, it provides creative, hands-on, and local experiences, and is geared to specific travelers' interests. Most importantly, niche tourism delivers the value required by discerning travelers and offers them the quality of a genuine intimacy with the heritage, natural beauties, folklore, and food of the communities they visit.
Moreover, niche tourism is a great opportunity for destinations that are not yet among the top tourism hits to enhance their own specific attractions, including the intangible aspects, like living expressions and traditions that bring out the distinctiveness of the place. As advocated by Geotourism, it's about building on a destination's geographical character, emphasizing its distinctive points in a way that benefits visitors and residents alike.
"Being, not looking", is the difference between a true experience and passive tourism, as stated by Marina Novelli in one of the chapters of her interesting book Niche Tourism, Contemporary Issues, Trends and Cases.
For further information and media inquiries: Patrizia Antonicelli – Tel.505.820.3305
In its seven years of operation, Seven Directions | Cultural and Sustainable Tours has established itself as one of the finest sustainable tour operators in the Southwest. It facilitates exceptional tours which create a memorable and authentic experience that is relaxing and profound in every respect. Specifically, Seven Directions Tours caters to a wide-ranging audience that seeks a hands-on experience that puts them in touch with the landscape and the people. What its clients learn is salient information in the comfort of a tour they can customize. Seven Directions Tours caters to large and small groups, and individuals. It also specializes in Fly & Drive programs that clients can take on by themselves.
###