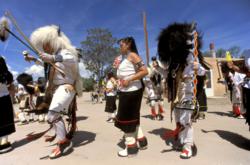 An extraordinary experience one never forgets
Santa Fe, New Mexico (PRWEB) December 06, 2011
For an awakening and meaningful Holiday experience Seven Directions Tours recommends a visit to the Pueblo Indians' villages of New Mexico during their Winter Ceremonies. From Christmas Eve to the beginning of January there is an extraordinary choice among the many Pueblo Ceremonies taking place throughout the nineteen pueblos of New Mexico, usually performed from dawn to late evening.
The Pueblo culture goes back over ten thousand years and the elaborate ceremonies are rooted in the ancestor's knowledge and beliefs and are a genuine religious expression. Every part of the costumes, from masks to colors, retains a specific significance that also guides their steps and movements.
The Winter Dances, a symbolic representation of the animals' hunt, get the dancers, and with them the whole pueblo, in harmony with the animal world. A variety of animals' impersonations take front stage, each one with a specific meaning: the eagle, the deer, turtle and buffalo. The Buffalo Dances, for instance, where the dancers wear entire buffalo heads, are among the most powerful and honor courage, leadership, and long life celebrating the abundance of food and the continued survival of the tribe. The drummers and singers tirelessly move around the village's plazas and fill the air with their mighty and hearty music.
A non-native dance is also often performed, the Matachines. This ancient and colorful dance belongs to the strong Spanish heritage of New Mexico and goes back to the times of Spain's Moorish occupation.
The amazing dances together with the spectacular New Mexico's sky and magical landscapes offer one of the most engaging and enchanting experiences.
Although outside visitors are welcome to watch the dances, there are some requirements that should be common sense but not always appreciated. In fact, dances take place on private land and are religious ceremonies; therefore visitors should not behave as if they were at a show. Actually, they are asked to refrain from talking and applauding, photographing is forbidden, and generally they should show the same respect as guests in a private home. But the Pueblos are very generous and welcoming people and Seven Directions Tours can often ask to share their time and their delicious native food with its guests.
Some Pueblos have their own hotels that are an interesting complement to the whole experience.
Through Seven Directions Tours different Pueblo programs, of any length of time, are available and tailored designed to also include visiting some of the iconic places of New Mexico as well as dining and shopping experiences.
For further information and media inquiries: Patrizia Antonicelli – Tel.505.820.3305
In its seven years of operation, Seven Directions | Cultural and Sustainable Tours http://www.sevendirections.net has established itself as one of the finest sustainable tour operators in the Southwest. It facilitates exceptional tours which create a memorable and authentic experience that is relaxing and profound in every respect. Specifically, Seven Directions Tours caters to a wide-ranging audience that seeks a hands-on experience that puts them in touch with the landscape and the people. What its clients learn is salient information in the comfort of a tour they can customize. Seven Directions Tours caters to large and small groups, and individuals. It also specializes in Fly & Drive programs that clients can take on by themselves.
###