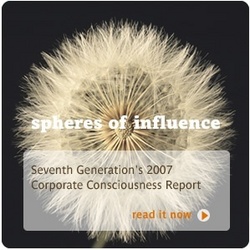 The contest is really a reflection of what we ultimately want our Corporate Responsibility report to do and to be
BURLINGTON, Vt. (PRWEB) August 4, 2008
The company's Spheres of Influence Contest asks businesses, organizations, and individuals to submit an entry that communicates the one idea in the company's new report that inspired them the most and then shows how they would use the $5,000 grand prize to carry that idea out into the world.
"The contest is really a reflection of what we ultimately want our Corporate Responsibility report to do and to be," said Gregor Barnum, Seventh Generation's Director of Corporate Consciousness. "We think the report's real purpose should be not so much to summarize the ways we're working to become a better company as it is to provide a concrete lead that people can follow. We really want it to serve as a catalyst for change and act as a tool that companies can use to improve their own systems and practices. It's got a lot to say about all the possibilities that are out there, and I think having our readers and peers tell us how to spread that word is the best way to get the report to create the kind of impacts we want it to have."
It was with this desire in mind that the Spheres of Influence contest was born. Named after the title of the new report itself, the competition is currently accepting entries in a number of visual and written media ranging from film to poetry. Entries are being accepted until December 31, 2008, and the winner of the grand prize will be announced on or about February 20th, 2009. Contest details and rules are available by visiting Seventh Generation's Corporate Responsibility site.
Also available on-line is the full Corporate Responsibility Report itself. The latest accounting of Seventh Generation's efforts to achieve a broad spectrum of ambitious long-term sustainability goals, it documents both the progress that's been made and the setbacks the company has experienced as it continues to blaze a new corporate trail for others to follow.
About Seventh Generation
Seventh Generation is committed to being the most trusted brand of household and personal care products for your living home. Our products are healthy and safe for the air, the surfaces, the fabrics, the pets, and the people within your home — and for the community and environment outside of it.
For information on Seventh Generation cleaning, paper, baby and feminine personal care products, to find store locations, and explore the company's website visit http://www.seventhgeneration.com.
MULTIMEDIA GALLERY http://www.businesswire.com/cgi-bin/mmg.cgi?eid=5747637