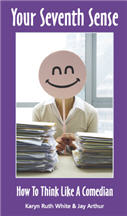 Anyone can learn to be a Comedian if they develop the right mindset.
Denver, CO (PRWEB) July 28, 2011
Speakers, comedians and corporate executives turn to Your Seventh Sense to learn the secrets of comedy. Comedians make us laugh at even the most tragic of events. Comedians help us cope with the good and the bad in a time of terrorists, budget deficits, and cranky coworkers. How do they do it and can anyone learn it? The answer is yes; anyone can learn to be more funny if they develop the right mindset.
For the last decade Jay Arthur, a master practitioner of Neuro-Linguistic Programming (NLP) has been studying and reverse engineering how comedians think. With his coauthor Karyn Ruth White, a standup comedian and professional speaker, they have refined the process for teaching people how to find the funny in everyday life.
In Your Seventh Sense—How to Think Like a Comedian!, coauthors Karyn Ruth White and Jay Arthur offer the essential skills of how to think like a comedian:

Prospecting for humor – How to develop your comedy radar.
When it comes to detecting humor, comedians all say the same thing: I take a step back and ask myself: "What's funny about this?"

Mining the humor. The next step for a comedian involves creative lateral thinking. They ask themselves: "What's this like?" How are women like cars? How is dating like a laundromat? Learning comedy is a great way to develop your creativity.
Refining the humor. Next, comedians distill their thinking down into the traditional joke format: setup-punchline-punchword. "Take my wife…please!"
Presenting humor. What point of view, attitude, and character would be best for this particular joke? Are you mad, sad, or glad? Is it hard, weird, scary, or stupid? What do you do when you bomb? Open mike night—bootcamp for fledgling standups.
The book has detailed examples from actual workshops about how to develop a joke from start to finish. It's full of humor from Karyn Ruth's joke file. And as members of the National Speakers Association, Jay and Karyn Ruth included a chapter about how to add humor to any speech; it's ideal for corporate executives or anyone who speaks to groups.
Kindle and paper copies of Your Seventh Sense—How to Think Like a Comedian! ($19.95) are available at Amazon.com or by calling (888) 468-1537. Readers can find out more at http://www.motivateeveryone.com/yourseventhsense.html.
###