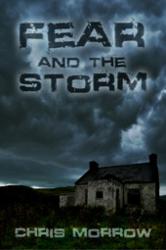 Holmen, Wisconsin (PRWEB) February 20, 2013
Bard and Book Publishing is an innovative publishing group whose authors create new material for their dedicated readers through writing approaches that are outside the realm of the normal publishing world. Bard and Book Publishing set out to be different from the start and that is evident through the authors they associate with, including Chris Morrow.
Morrow has released several works under the Bard and Book label, including "Fear and the Storm."
Jill Peters is a troubled woman. She and her husband Jim are on a cross country trip from California to Florida in order to move in with her ailing father to take care of him. In eastern Kansas, they end up in the path of a violent tornado and are forced to take refuge in an abandoned farmhouse. It is here that Jill must face her fears if she is to save her husband and herself. And when all looks lost, she gets a little help from an unlikely source.
"Fear and the Storm" is available to download for free on Smashwords. Visit Bard and Book Publishing to get the exclusive online code for a free download.