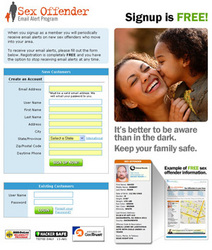 You don't have to scour the Internet, call law enforcement agencies or rely on tips from other neighbors to find out where the sex offenders are
Sacramento, CA (PRWEB) August 14, 2007
PeopleFinders.com, the Web's leading people search site, is launching a free email program that will provide users with the locations of registered sex offenders in their neighborhood.
The program, titled PeopleFinders.com Sex Offender Email Alert Program, sends free emails to subscribers, which provides access to the whereabouts of local registered sex offenders. Each email further links to detailed offender information including physical description, risk level and basic criminal information.
According to PeopleFinders.com Media Coordinator Hayden Bond, the PeopleFinders.com Sex Offender Email Alert Program is a convenient way for families to stay informed on registered sex offenders in their neighborhoods. "You don't have to scour the Internet, call law enforcement agencies or rely on tips from other neighbors to find out where the sex offenders are," states Bond. "In fact, you don't even have to leave the house as we can send vital sex offender information straight to your account," adds Bond.
The email alert program further allows users seeking more information on a particular registered sex offender to easily perform a comprehensive background check on that offender. "We want to give our users a chance to know as much as they can about the sex offenders in their area. Thus, adding a background check to our new email alerts made perfect sense," states Bond.
For more information or to register for free PeopleFinders.com Sex Offender Email Alerts, visit http://www.peoplefinders.com.
About PeopleFinders.com
PeopleFinders.com is the leading provider of accurate and timely people search results on the Web. Located in Sacramento, CA, PeopleFinders.com offers a variety of people search choices for home owners, businesses, parents, financial institutions and many others including background checks, criminal checks, business searches, unclaimed money searches, bankruptcies and liens searches, property searches, marriage and divorce checks, birth and death records searches and investigator assisted searches. Founded in 1988 by Licensed Investigator and former Intel Corp Investigator Robert Miller, PeopleFinders.com enables users to search more than a billion public records through their extensive collection of databases which are the same databases currently being used by law enforcement and governmental agencies. PeopleFinders.com can be found online at http://www.peoplefinders.com.
# # #