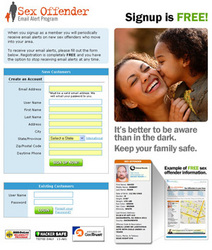 Sacramento, CA (PRWEB) October 19, 2007
PeopleFinders.com is proud to sponsor Safetyville USA's annual safe trick or treating event, the 17th Annual Halloween Haunt. PeopleFinders.com will also be providing families with information about their new Sex Offender E-Mail Alert Program, which locates and maps sex offenders by address. Additionally, the free service alerts families when a sex offender moves in, or out of, their neighborhood.
Safetyville USA held the first "Halloween Haunt" as a safe alternative to trick-or-treating in 1991. Since then, the event has grown tremendously in size and popularity with more than 2,500 children and their families expected to participate in this year's festivities.
All proceeds from the 17th Annual Halloween Haunt will benefit Safetyville USA, a private and not-for-profit children's safety training center, which features a miniature city that sits on three and a half acres.
When children visit Safetyville USA, they take an interactive tour through the miniature city which aims to teach them life saving safety skills such as how to cross a street safely; what to do in case of fire; how and when to dial 9-1-1,and the importance of proper playground safety.
PeopleFinders.com seeks to enhance the learning that takes place at Safetyville USA by providing parents and families with an additional resource to help them identify potential dangers in their neighborhoods and keep their kids safe. PeopleFinders.com Sex Offender E-Mail Alerts can help parents show their children which houses to avoid and also features pictures of registered sex offenders. Offender identification is the key to minimizing the risks of local sex offender activity.
PeopleFinders.com wishes all families a safe Halloween and holiday season. You can find out more about Safetyville USA and its safety programs at http://www.safetycenter.org.
For more information or to register for free PeopleFinders.com Sex Offender Email Alerts, visit http://www.peoplefinders.com.
About PeopleFinders.com:
PeopleFinders.com is the Web's leading provider of accurate and timely public records and people search data. Located in Sacramento, CA, PeopleFinders.com offers a variety of people search choices for home owners, businesses, parents, financial institutions and many others including background checks, criminal checks, business searches, unclaimed money searches, bankruptcies and liens searches, property searches, marriage and divorce checks, birth and death records searches and investigator assisted searches. Founded in 1988 by Licensed Investigator and former Intel Corp Investigator Robert Miller, PeopleFinders.com enables users to search more than a billion public records through their extensive collection of databases which are the same databases currently being used by law enforcement and governmental agencies. PeopleFinders.com can be found online at http://www.peoplefinders.com.
###