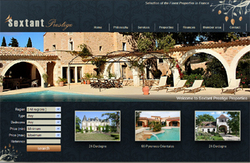 (PRWEB) July 2, 2009
A new website featuring upmarket properties for sale in France has been officially launched today (2 July 2009).
Sextant Prestige, which has been set up by successful French property estate agency Sextant Properties, is aimed at potential purchasers looking to buy châteaux, manor houses and villas across the country.
The idea is to offer customers a bespoke service tailored to their precise needs and requirements.
Sextant Prestige will also guide prospective buyers through some of the legal implications of buying prestige properties in France.
'There are impacts in terms of inheritance and tax, for example, and we can put clients in touch with expert lawyers and financial advisers,' says Matthieu Cany, co-founder of Sextant Properties.
Sextant Properties has a network of 160 estate agent offices across France and as of 2 July 2009 the firm had a total of 8,000 properties on its books.
'That's why we decided to create a niche website for prestigious properties, to make it even easier for customers looking for high-end French properties,' says Matthieu.
However, the new website's customers do not have to worry about being charged more.
'Sextant Prestige's service remains the same as the one offered by Sextant Properties,' says Matthieu. 'There is no extra fee. The properties are offered at exactly the same price as a customer would pay if they went directly to the agents.'
Among the many upmarket properties currently available on http://www.sextant-prestige.com is a medieval château near Cognac in the southwest of France. This is set in 35 acres and has its own gîtes, a swimming pool and stunning views - and is on the market for €1.3million (ref 7986).
While in the South of France you can buy a Provencal Bastide or country house with 1.4 acres and a swimming pool, again for €1.3million (ref 16899).
'There are some fantastic prestige properties across France and this new site is a great place to see what is on the market,' says Matthieu.
Sextant Prestige is at http://www.sextant-prestige.com
About Sextant:
Sextant Properties is based in London and was founded by two French businessmen Matthieu Cany and Brice Bonato. They have built up a unique network of 160 individually selected estate agent offices across France.
The company operates in the most popular corners of France such as the Dordogne, Brittany, Normandy, Limousin, Pays de La Loire, Poitou-Charentes, Midi-Pyrenees, Paris, Languedoc, Provence, Côte d'Azur and the French Alps. They offer all types of properties, from barns, farmhouse, stone houses, gîtes and guesthouse businesses, to mansions, villas and châteaux.
For more information contact:
Matthieu Cany
Managing Director
Sextant French Property Agents
Telephone: 00 44 (0)20 7428 4910
Websites: http://www.sextantproperties.com
http://www.sextant-prestige.com
###