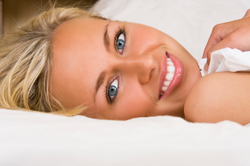 The sex doesn't work without a good relationship
Santa Monica, CA (Vocus) May 18, 2010
Glowing skin due to pregnancy or other hormonal changes, even after sex, is not unheard of but is it realistic to think that sex on a regular basis could really make people look an average of ten years younger? According to a study conducted over the course of a decade by clinical neuropsychologist David Weeks and his colleagues at the Royal Edinburgh Hospital this may very well be the case. As a result, AdultSexToys.com has launched its Anti-Aging Through Intimacy Campaign starting May 15th through the end of June, offering a special 20% discount on sex toys for couples.
"Dr. Week's findings are not recent nor is the association between an active sex like and overall good health completely new. What we found most intriguing was that it wasn't strictly about sex, since neither casual sex nor cheating, according to Dr. Week;'s study, were found to slow the aging process down at all." said Nicole Irvin, spokesperson for AdultSexToys.com. That is why the campaign is called Anti-Aging through Intimacy.
"The sex doesn't work without a good relationship," Weeks says. "It works via a relationship that is very supportive and emphatic, in which both people are physically and emotionally compatible."
So where do sex toys come in? "We took an informal poll and found that it was women who were in serious committed long term relationships that often felt they had the least amount of time for sex or that their sex lives had actually slowed since the earlier years of their relationship. Introducing something new, whether a new perfume, piece of lingerie, adult erotica or sex toys was a way to encourage couples to reinvigorate their sex lives. It was something we wanted to raise awareness of with our customers and that is why we created Intimate2, a code that gives our customers 20% off on an unlimited number of sex toys for couples. And we couldn't think of a better time than the spring and summer months to launch a campaign promoting sexual intimacy."
"It's extremely important to your health," says Dr. Barbara Bartlik, a clinical professor of psychiatry at Weill Medical College of Cornell University in New York City. "It promotes marital harmony. The stresses and strains become more manageable when a couple is having sex regularly."
In Dr. Week's study 3,500 European and American men and women ages 20-104, though most were between 45-55 years old. Each participant had been selected for the study by a panel of six judges who watched the interviewees through a one way mirror and subsequently guessed their ages. The participants ages were estimated to be from seven to 12 years younger than their actual ages and it turns out that having sex three times per week was the second-most important factor (second only to physical activity) in determining how young a person looked.
But what about the health benefits of orgasm in and of itself, which has been touted to do everything from boosting immune function to relieving stress? It turns out in Dr. Week's study sex and orgasm were considered one in the same.
"Sex is the most pleasurable activity people take part in, and because the orgasm is the most pleasurable of that, it's hard to separate it out," Weeks says. "It's hard to say if it accounts for 50 percent or 75 percent" of the beneficial effects."
"It seems far fetched to think that just because someone was solo all health benefits associated with orgasm would be ruled out" stated Irvin. "That said, while we'd love to see a study that showed anti-aging benefits of orgasm alone, we also wanted to celebrate Dr. Week's findings and make it just a little bit easier for couples across the U.S. to celebrate what they have.
###