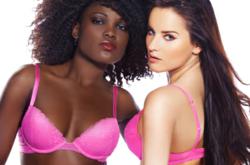 Even Jennifer Aniston good naturedly agreed to try on a bra vibrator during her appearance on Ellen.
Santa Monica, CA (Vocus/PRWEB) March 01, 2011
While Jennifer Aniston's recent appearance on Ellen, where she good naturedly agreed to try on a bra vibrator, may have made millions laugh, the sex toy manufacturer Lady Calston had already very seriously launched the Tickling Bra, claiming it as the world's first vibrating bra for women and carried online by AdultSexToys.com.
The vibrators shown on Ellen where half moon shape, non pliable vibrators designed to be worn inside a woman's bra but according to Nicole Irvin, products manager at AdultSexToys.com, "There is truly a market for all kinds of sexy toys that are focused on stimulating the nipples, and it makes sense. After all they are one of the primary erogenous zones for most people. The choices range in the hundreds of products, from vibrating suction cups to nipple clamps to the Tickling Bra."
What makes the Tickling Bra revolutionary in a world full of sex toys already aimed at that area of the body? It is the two quiet motors encased in pads and featuring variable speed control can be worn on their own, much like a bra as the name implies, and because the straps are both adjustable and removable the pads can also be simply concealed in your own bra.
It stands to reason that no one can necessarily be caressing or stimulating their partner everywhere at once and for women who love to have their nipples stimulated, the Tickling Bra and products like it are apparently becoming more popular.
About AdultSexToys.com
One of the largest online retailers of adult toys, Adult Sex Toys.com has been in business since 2005. A trusted name in the industry, Adult Sex Toys.com customer care includes paying the sales tax for its customers on every purchase and also offering its Lowest Price Guarantee.
For More Information: adultsextoys.com.
###