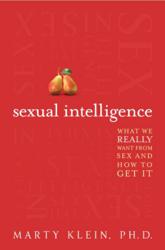 Marty Klein is the Steve Jobs of sex advice. With beguiling ease, he takes complex issues and distills them down to their essence.
—Ian Kerner, Ph.D., author of She Comes First
San Francisco, CA (PRWEB) February 07, 2012
Marty Klein, Ph.D. has spent the last three decades working with couples and individuals on improving their sex lives and relationships. As a certified sex therapist and sex educator, marriage and family therapist and sociologist, he has heard almost every sexual story, desire, fantasy, and secret, and helped thousands of people break down barriers and find the keys to genuine sexual satisfaction. Now he brings his years of research and experience to a groundbreaking new book, SEXUAL INTELLIGENCE: What We Really Want from Sex—and How to Get It (HarperOne; February 2012; Hardcover; $25.99).
Dr. Klein reveals that how we think about sex is the primary factor that determines the quality of our sex lives and intimate relationships. More than any tips or techniques, the key to fulfilling sex is what Dr. Klein calls sexual intelligence. In this transformative approach to improving and understanding our sex lives, Dr. Klein identifies the three components of sexual intelligence: the brain (information and knowledge), the heart (emotional skills), and the body (physical awareness and comfort). He reveals how understanding, enhancing, and using these personal assets can help couples and individuals set aside the heavy burdens often placed on sex, as they create more positive outcomes, including:
Becoming more present during sex and increasing sexual communication
Letting go of our obsession with sexual performance and sexual 'normalcy'
Increasing awareness, openness, and renewed optimism about our sexual lives
Embracing our bodies as they are, and how sex changes as we age
Creating lasting physical and emotional connections with our partner.
Dr. Klein's approach to sexual intelligence requires relinquishing society's definitions of "sexy" and "normal" sex and reorienting how we think about sex altogether. "Our desire to be sexually 'normal' is precisely what prevents us from becoming our authentic sexual selves," he writes. He challenges the mass media portrayal of orgasm as the best part of sex, pointing out that focusing mostly on the few seconds of orgasm "is missing most of what sex offers." Further, he identifies a major hurdle of sexual expectation: most people develop their model of sexuality when they have the body of a young, healthy person—but in order to desire and enjoy sex throughout our adult lives, we need a different, more mature model of sexuality.
SEXUAL INTELLIGENCE reveals how to get much more of what we want from sex, from physical pleasure to emotional connection, and more. Through dozens of examples taken from his real-life cases, Dr. Klein calms readers' anxieties about their desirability, physical appearance, and "sexiness," as well as what their partners might be thinking. Ultimately Dr. Klein helps us recognize and reconcile our expectations of what sex should bring, and teaches men and women practical ways to have fulfilling, exciting sex at every stage of life.
About the author:
Dr. Marty Klein is a certified sex therapist and licensed marriage and family therapist with 30 years of experience counseling couples and individuals. The author of six books, he has appeared on Nightline, 20/20, and Penn & Teller, and is a contributor to Psychology Today, YourTango.com, and EmpowHer.com. In addition, he has written dozens of feature articles for publications including Modern Bride, Playboy, The New Physician, and The California Therapist. He resides in Northern California. Visit him at sexed.org.
SEXUAL INTELLIGENCE
What We Really Want from Sex--and How to Get I t
By Marty Klein, Ph.D.
On-sale: February 7, 2012 / $25.99 Hardcover / ISBN: 9780062026064
*ALSO AVAILABLE AS AN EBOOK *
###