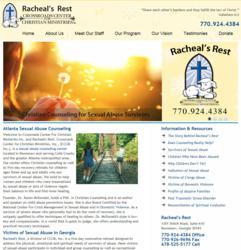 Racheal's Rest was created to bring hope and healing to abuse victims.
Dr. Karen McDonald
Atlanta, GA (PRWEB) November 19, 2012
Atlanta Sexual Abuse Counselor, Dr. Karen McDonald of Kennesaw is now offering five-day restorative retreats for survivors of sexual abuse. The retreats take place in the North Georgia Mountains near Blue Ridge, Georgia. There, victims of sexual abuse participate in daily individual and group counseling sessions as well as recreational play. They are also given plenty of time to enjoy God's creation and to explore the local area. The retreats are designed to help women and children who are survivors of sexual abuse to process old hurts and feelings, find hope, regain their balance in life and find inner peace. These retreats are part of a comprehensive sexual abuse and domestic violence recovery program offered by Dr. Karen McDonald and Crossroads Center for Christian Ministries, Inc.
Racheal's Rest, a division of Crossroads Center for Christian Ministries, Inc. (CCCM, Inc.), is a five-day retreat designed to address the physical, emotional and spiritual needs of survivors of abuse. The retreats are named in honor of one of Dr. McDonald's patients who was the victim of sexual abuse. Racheal was seventeen and was the youngest member to ever join the women's group at Crossroads Counseling. She loved their retreats and said that they were the only place where she found respite from her spinning thoughts and sleepless nights. Racheal died in December of 2010 from anorexia. She was twenty-six years old. Racheal's rest was formed to honor both her memory and her struggle.
About Crossroads Counseling:
Crossroads Counseling is a Christian counseling center located in Kennesaw and serving the greater Atlanta metropolitan area. Founder, Dr. Karen McDonald, holds a PhD. in Christian Counseling and is an author and speaker on child abuse prevention issues. She is also Board Certified by the National Center for Crisis Management in Sexual Abuse and in Domestic Violence. As a survivor of severe abuse who personally had to do the work of recovery, she is uniquely qualified to offer techniques of healing to others.
Racheal's Rest is a 501c3 tax-exempt organization and is funded through the financial gifts of churches, individuals, businesses and corporations. To get more information about Racheal's Rest retreats, or to make a donation, please contact Crossroads Center For Christian Ministries, Inc. in Kennesaw, Georgia.