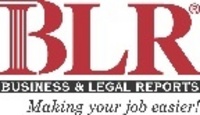 As an attorney who reviewed the BLR on-line training materials and who regularly provides sexual harassment avoidance training to managers and HR professionals, I found the content excellent and the presentation engaging. This program is a good alternative for managers who do not have the time and/or ability to attend live training
OLD SAYBROOK, Conn. (PRWEB) October 29, 2008
"California AB1825 requires two hours of sexual harassment prevention training for California supervisors in ALL businesses that employ 50 or more employees," said Catherine Moreton, J.D. Managing Editor, Human Resources and Compensation, BLR. "To stay in compliance, many HR professionals have had to turn to outside consultants for training, or spend their valuable time researching and designing programs, on top of working around conflicting employee schedules. This is expensive and time consuming and still may not achieve full compliance with AB1825."
The BLR Employee Training Center for California Sexual Harassment Prevention and Response features Web-based training that allows employees to train anytime, anywhere with just a workstation and Internet access, and provides administrators with automatic tracking and documentation of individual employee training and test scores. The Employee Training Center includes:
Interactive real-life scenarios and exercises An Expert Help Link that allows trainees to request information and clarifications from BLR experts related to the course A Policy Acknowledgement that allows the training administrator to either upload their company-specific policies or use a sample policy provided in the course An easy to use online reporting tool that tracks the date, duration, completion, and pass/fail status for employees and delivers an automatically generated completion certificate All of the reports required to be in complete compliance with AB1825 "As an attorney who reviewed the BLR on-line training materials and who regularly provides sexual harassment avoidance training to managers and HR professionals, I found the content excellent and the presentation engaging. This program is a good alternative for managers who do not have the time and/or ability to attend live training," said Allen M. Kato, J.D., Fenwick & West LLP.
BLR is providing a complimentary webinar on Thursday, November 6, 2008 at 2 p.m. For more information or to register for the webinar please visit: https://www1.gotomeeting.com/register/149372886
To learn more about the BLR Employee Training Center for California Sexual Harassment Prevention and Response please visit training.blr.com/AB1825-training/index.aspx?source=PRS&effort=130 For media interested in speaking with Catherine Moreton, subject matter expert, please contact [email protected] or 1-800-757-5257 x2442.
About Business & Legal Reports, Inc.
Business & Legal Reports, Inc. (BLR®) is an award-winning publisher dedicated to supporting companies with up-to-date HR, Compensation, Safety, and Environmental analysis, training, and regulatory compliance information. Founded in 1977 with a mission to provide executives and decision makers with reliable, easy-to-understand analysis of the ever-increasing and complex state and federal laws, BLR delivers online services such as HR.BLR.com, Compensation.BLR.com, Safety.BLR.com, Training.BLR.com and Enviro.BLR.com as well as popular Web destinations for professionals such as the HRDailyAdvisor.BLR.com, SafetyDailyAdvisor.BLR.com and HRChallenge.BLR.com. BLR also publishes highly regarded state compliance services such as What to Do About Personnel Problems in [Your State], Employee Compensation in [Your State], and Environmental Compliance in [Your State] as well as best practice newsletters, benchmark surveys, training materials, and books for more than 300,000 companies and their employees worldwide. For more information, contact BLR at http://www.BLR.com or call 1-800-727-5257.