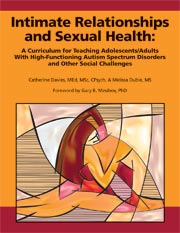 I wish I had been exposed to something like this in my youth!
Overland Park, KS (PRWEB) January 17, 2012
Addressing the subject of sexual health with adolescents and young adults is challenging. For individuals with autism spectrum disorders (ASD), the intricacies of emotional/romantic relationships can be especially difficult to learn, understand, and navigate. In many respects, individuals with ASD are similar to their typically developing peers with regard to sexual health. They undergo normal physical body changes during puberty but often differ significantly in their social and romantic functioning. This "disconnect" between physical maturation and social relationship skills and understanding can lead to significant problems both in terms of depression or anxiety linked to unmet needs and sometimes inappropriate sexual behaviors towards others. Intimate Relationships and Sexual Health from AAPC Publishing was written to help tackle both the "technical" details of sex and the relationship factors involved.
This comprehensive and extensively researched curriculum (with a companion CD), written by co-authors Catherine Davies and Melissa Dubie, provides 11 detailed lessons covering the complex topics of sex education and relationships. Subject matter includes fact-based content such as anatomy and reproduction along with lessons that teach aspects of social judgment such as dating, relationship building and decision making. Not only the content but also the way it is presented is grounded in a comprehensive understanding of the needs of individuals with ASD and utilizes evidence-based teaching strategies and techniques that have been shown to be effective for this population.
Each lesson includes a highly structured lesson plan that incorporates learning objectives, individual and group activities, student assignments and handouts. Suggestions are also provided for adapting each lesson to individual rather than group instruction. The curriculum can be used by instructors from a variety of backgrounds including teachers, social workers, psychologists, parents and therapists.
For example, within the lessons on dating and relationships some of the teaching concepts include:

Becoming aware of sensory sensitivities;
Preparing to date;
Social communication skills needed on a date;
What to do after the date;
Having realistic expectations of how long it takes to develop a relationship;
Applying the stages of relationships model to real life;
Abusive behavior within a relationship – What is it and what should be done about it?
How can you reduce your likelihood of experiencing sexual harassment and/or being aware of your own illegal sexual behaviors;
Things we need to consider when using technology for relationship building.
Addressing the topic of sexual health may seem challenging, but the pay-off for students can be enormous. The absence of this vital information leaves students open to frustration, problems, health issues, and even dangers. This important curriculum ensures the students will come away armed with the tools they will need to live healthy lifestyles.
"In one word: Finally! When parents and professionals ask me if there is a comprehensive sexuality education curriculum for bright learners with ASD, I can finally say 'yes.' Davies and Dubie's exceptional program not only covers all the important topics that contribute to fostering healthy sexuality and personal safety, it is founded in evidence-based strategies for teaching learners with ASD."

Shana Nichols, PhD, owner and director ASPIRE Center for Learning and Development
"This book is a remarkably well-researched blend of peer experience, pragmatic teaching, and professionalism. I wish I had been exposed to something like this in my youth! Most importantly, it recognizes the great diversity of potential sexual experience in the autistic community and maximizes the chances of my peers for sexual fulfillment of their choice."

Jerry Newport, co-author of Autism, Aspergers and Sexuality: Puberty and Beyond
For all media inquiries or to set up an interview or workshop with Catherine Davies or Melissa Dubie, contact AAPC Marketing at marketing(at)aapcpublishing(dot)net
About the Authors
Catherine Davies, M.Ed.; M.Sc.; C.Psychol; LMHC; is an Educational Consultant at the Indiana Resource Center for Autism at Indiana University. She speaks regularly on the topics of Structured Teaching and Visual Supports emphasizing practical tips for educators and parents. Catherine has over 25 years experience working with children and adults with Autism Spectrum Disorders (ASD) and was a special education teacher, school psychologist and clinical psychologist in the UK. Since relocating to the US Catherine worked as a Psycho-educational Therapist in the TEACCH program supporting people with ASD and has had a private practice as an Autism and Structured Teaching Consultant.
Melissa Dubie, M.A. is an Educational Consultant at the Indiana Resource Center for Autism at Indiana University. She has worked in the public school system for 27 years with students with disabilities including ASD. During this time, she was a teacher, coordinator, coach and consultant for individuals from preschool through high school. Since joining IRCA in 2003, Melissa has guided families and professionals through the use of resources and information about issues related to puberty and sexual health.
Catherine and Melissa collaborated to develop this curriculum while teaching relationships and sexual health to high functioning adults with ASD.
About AAPC
Established in 1999, the mission of AAPC Publishing is to be the first source for practical solutions related to autism spectrum and related disorders. We are an independent publisher, targeting professionals and parents alike. We strive to offer publications at affordable prices so that important resources will not be off limits to anyone with an interest in the autism spectrum.
###