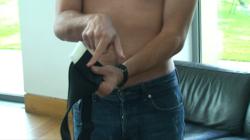 Dr. Allen's therapeutic device is not only effective for prostate enlargement but offers great value for money and allows senior men to save funds for other needs in life.
London, UK (PRWEB) October 02, 2012
"Shattering the myths of aging" article (of 1 October 2012, in The StarPhoenix) insists some common views on senior men getting weak and lacking interest in a healthy sex life are misleading; however, a long-term intake of prostate drugs can depress men's sexual life all the way to impotence, while Dr. Allen's device for BPH treatment can help to terminate prostate enlargement naturally, Fine Treatment reveals.
The article highlights, it is a myth that sex stops after 65. In fact, sexual activity doesn't have to stop once someone gets older. Researchers at Duke University surveyed 254 men and women between the ages of 60 and 94 about their sexual activity. They found that older individuals were still interested in sex and had active sex lives.
Senior men therefore have to be very careful with BPH drugs and different prostate removals procedures as these are likely to cause erectile dysfunction (ED). To the contrary, the new Thermobalancing Therapy treats prostate well without side effects and can prevent complications arising from other treatment methods. Dr. Allen's therapeutic device helps to prevent urine obstruction naturally maintaining and enhancing sexual activity. You can watch the following video http://www.youtube.com/watch?v=dCFy_jZgCLw on how a man with a hugely enlarged prostate has shrunk it by wearing Dr Allen's device without any medications.
"It is important that the long-term safety and efficacy of drugs intended for chronic administration in men with BPH be well understood," says The National Institutes of Health (NIH), as according to the Harvard University papers, BPH medications may cause sexual dysfunction. Dr. Morgentaler, for instance, states: "There are a number of drugs that may lessen sex drive, including the BPH drugs finasteride (Proscar) and dutasteride (Avodart)."
These medications can cause sex-affecting side effects including ejaculatory abnormalities, erectile dysfunction and loss of interest in sexual activity. Other medication Tamsulosin takes several days or weeks to become effective. Common side effects of Tamsulosin include dizziness upon standing, vertigo and ejaculation disorders. Alfuzosin that decreases urinary obstruction associated with an enlarged prostate can also cause dizziness upon standing and lightheadedness.
"The side-effects-free new Thermobalancing Therapy provides a natural prostate treatment enhancing sexual health of its users, whereas BPH drugs and surgeries can only depress men's sex life," says Dr. Allen. "Dr. Allen's therapeutic device is not only effective for prostate enlargement but offers great value for money and allows senior men to save funds for other needs in life."
For details, please visit Fine Treatment at http://www.finetreatment.co.uk/prostatetreatmentbph/prostatitistreatment.html.
About Dr. Simon Allen and Fine Treatment:
Dr. Simon Allen is a highly experienced medical professional. His specialty is in the internal medicine and cardio-vascular field, and he has treated patients after a heart attack, with kidneys problems, including kidney stones disease, prostate and spine conditions. Fine Treatment exclusively offers Dr Allen's devices for chronic prostatitis and BPH, coronary heart disease, dissolving kidney stones, as well as back pain treatment and sciatica relief.