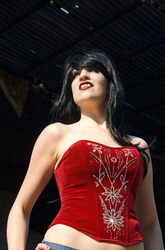 Once we partnered with Amazon.com, and became a preferred vendor with special status, we saw our sales take off at an insane level
Philadelphia, Pennsylvania (PRWEB) October 22, 2009
Everyone seems to have Vampires on the mind when it comes to Halloween, but this year it's not the kind you typically think about. This year, is the year of young, buff, sexy vampires that live forever and make our hearts throb in anticipation.
Playboy magazine featured them on their October cover, Esquire magazine ran a article on them, Maxim runs vampire articles, Penthouse Runs Vampire articles, and who can't pass a grocery checkout without seeing the stars of the latest Twilight episode plastered all over the front?
Let's face it, the age old adage "Sex-sells" is alive and kicking, only this time it's being applied to Vampires.
You would be amazed at the obscure ways that companies can cash in on the hot new sexy Vampire trend.
Planetcostume.com, an online e-tailer running specialty Vampire sites such as Twilightfang.com are selling sexy outfits, capes and yes, Vampire fangs to want-to -be Vampires.
Planetcostume.com has been selling Vampire fangs for over 12 years, but saw a substantial upturn in sales over the past two years due to the Twilight movies, Vampire series on HBO, and other Vampire-style books and movies becoming more popular in everyday culture.
Planetcostume.com can lay claim to an obscure, yet interesting fact; they sell more fangs than any other retail outlet in the United States. They are not only selling the fangs through several online sites, but are also providing them for Amazon.com as well.
"Once we partnered with Amazon.com, and became a preferred vendor with special status, we saw our sales take off at an insane level" says Rich Williamson, President of Planetcostume.com "We had been growing fang sales very rapidly, but the exclusive partnership with Amazon.com took us to the next level".
Jennifer Zumpf who manages the product line, told of the latest products; "We just completed a photo shoot of some of our sexy bustiers along with hand painted blood tipped fangs". Planetcostume.com even provides solid gold Vampire fangs with real diamond inserts for the Vampire who has "everything".
About Planetcostume.com. Planetcostume was established in 1997 as an extension of several large manufacturing costume companies, which had been established as far back as 1876. The owners of those companies saw a need for a more direct way to get their Costumes, Santa suits, and lingerie to customers all over the US. Planetsanta.com and Planetcostume.com allow consumers to directly order Santa & costume related products around the world, and around the clock. Company web site: Planetcostume Web Site
Planetcostume.com • Richard Williamson • 866-691-4273
###