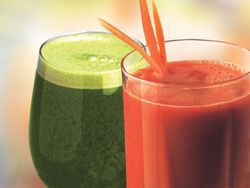 It's important for Moms to be reminded that they are as sexy and feminine as they were in pre-parenthood.
Wilmington, DE (PRWEB) March 22, 2011
Sexy CocktailsTM, a trademarked program coined by Dr. Debra Laino, increases health, energy and stamina. Dr. Laino recommends concocting juice drinks that increase the libido, fight fatigue and encourage attraction and intimacy. As a board certified clinical sexologist and practicing sex therapist, she says the increased wear and tear on our busy schedules has taken a toll on American's sex lives, and she sees the evidence every day in the growing number of new patients seeking her counsel to help them overcome the stress and anxiety that sap sexual desire. In addition to her 5 Secrets to Increasing Sex Drive, the Delaware Sex Doc says Sexy CocktailsTM may just do the trick.
'Sexy CocktailsTM' Can Help Restore Intimacy
Fruits and Vegetables high in certain nutrients may help ward off more than colds, diseases and extra weight. According to Dr. Laino, energy deficiency or stress-related sexual distress can be largely improved by making conscious decisions to add certain ingredients to your existing menu. Laino recommends that sexually active adults should take measures to know what affects and decreases the anxiety that might be causing them to lose sexual drive and connection ability, both physically and emotionally.
The 'Sexy CocktailTM' originates from wanting to incorporate a higher level of zinc into a healthy diet. Adding increased amounts of zinc not only helps with complexion but also helps with feelings of fatigue. Traditionally, when we look good, we tend to feel good. Self-confidence increases and stress levels decrease. Incidentally, when we are stressed, tired or lacking in self-confidence, the last thing we think about is sex. But perhaps most importantly, zinc increases testosterone. From a strictly physiological perspective, testosterone is responsible for sexual desire. With raised testosterone levels, combined with feeling and looking good, increased energy and lowered stress levels, both male and females stand to greatly benefit from more sexual confidence and frequency of interest and drive. Generally speaking, men need about 15 mg a day and women about 12 mgs a day to achieve these desired levels.
Higher zinc levels are delightfully enjoyable when obtained through juice concoctions, with or without alcohol. While not promoting regular alcoholic intake, Laino says that when adults choose to make themselves drinks using liquor, they can make a conscious effort to combine low calorie, high nutrient juice combos alongside organic Vodkas for an overall physiological health boost.
Some favorite high zinc 'Sexy CocktailTM' juice combo options include:

Fresh pomegranates and peaches
Cucumbers and spinach, with a bit of honey or agave to sweeten if desired
Raspberries, peach and kiwi
Bananas, kiwi and sweet blackberries
*It is suggested that these drinks be made using a juicing machine rather than a standard blender.
Laino's latest E-book, Eleven Reasons Why Women Cheat, addresses some of the issues surrounding the lack of emotional connection and intimacy that often drive women to stray from their committed relationships. Her intimacy guide, Love for All Eternity – Guide to Intimacy, is available now through RKR Publishing.
Laino is board certified by the American Board of Sexology and the American College of Sexologists, and she is a practicing sex therapist in Wilmington, Delaware, where she also conducts phone sessions for clients across the country.
Dr. Laino is available to discuss this and other featured intimacy issues for live or recorded radio, television or podcasting segments and is pleased to offer written content resource for journalistic coverage. For more information, visit http://www.delawaresexdoc.com.
About Dr. Debra Laino
Dr. Debra Laino, DHS, M.ED., is a board certified sexologist/sex therapist with more than 10 years of professional experience in helping individuals and couples to identify, address and overcome their intimacy issues. She is a board certified counselor by the American Pscychotherapy Association and holds a Ph.D. in Human Sexuality from the Institute for Advanced Study of Human Sexuality in San Francisco, CA, a Masters Degree in Education from Widener University in Chester, PA, and a Masters Degree in Psychology from Capella University in Minneapolis, MN.
She is a regular columnist for Sex Appeal magazine and she has appeared frequently on Playboy Radio, WKEST San Francisco Talk Therapy and many other stations around the country. She lectures often for professional organizations and has conducted countless workshops on topics such as Issues in Sex Therapy, Cancer and Intimacy, Fellatio, Kama Sutra/Sexual Positions, Healthy Relationships and many more. Her book Trolley Square is now available through SynergEBooks, and intimacy guide, Love for All Eternity - Guide to Intimacy, was recently released in 2010. For more information, visit http://www.delawaresexdoc.com.
###