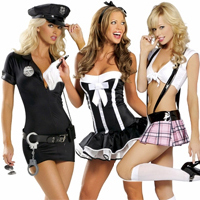 I was at a Halloween convention recently for three days, and I found amazing new styles this year for our most popular categories
Glendale, CA (Vocus) March 19, 2010
The CEO of popular website sexywearavenue.com recently visited one of the largest costume industry conventions in the country to search for the highest quality sexy Halloween costumes, and his efforts have paid off.
"I was at a Halloween convention recently for three days, and I found amazing new styles this year for our most popular categories," said CEO Arsen Janikyan.
Although there are certain styles of costumes that remain eternally popular year after year, such as the ever popular school girl costume, the challenge is in finding fresh new versions of the designs so that customers don't end up wearing the same versions as everyone else.
It's also important for a costume website that offers a variety of costumes so that customers can choose the most flattering and appealing style. For instance, their school girl costumes are offered in numerous colors and prints. Many of the styles incorporate the popular plaid miniskirt, but others offer checks, black satin, and other alternative looks, with many accessory options as well.
That's why Janikyan is always on the lookout for the latest, best designed, and highest quality versions of the most popular costume themes.
While costume trends come and go over the years, there are certain types of costumes that are always in demand and certain themes that customers are always looking for, Janikyan finds.
For instance, one of the biggest sellers is the sexy cop costume, but new versions and designs come out every year - and SexyWearAvenue.com always makes sure that they offer the newest, most fun, and most flattering theme costume styles available anywhere. The cop costumes come with different styles of traditional police hats, and include a variety of accessories, including handcuffs dangling from official looking belts, and batons. They are adorned with badges and are sold in different colors, including black, traditional blue and shiny black vinyl. Some of them come with skirts, some come with shorts, and some are one-piece costumes.
Another popular favorite style is the French maid costume. The classic French maid costume is usually black with a very short, full, fluffy skirt, a tiny white apron, and a bustier-type top. It's generally accompanied by accessories such as a feather duster and stockings, but it comes in many varieties and styles. What appeals to one customer may not appeal to another customer. SexyWearAvenue.com doesn't just stick with basic black; they offer a variety of colors, trims, and styles, with skirts of varying lengths, different types of petticoats, and numerous other options. The costumes come with various accessories as well, including feather dusters and hair bows.
"We are proud to offer a large selection of sexy costumes for women from many industry leading brands and designers. Our team is excited for the upcoming Halloween season as we prepare exclusive costumes styles," Janikyan said. "And because we know how important it is for our customers to get their costumes on time for Halloween or for many other special occasions, we always provide prompt delivery service."
Of course, customers don't need to wait until Halloween to order their costumes; and there are plenty of other occasions to wear sexy costumes, including costume parties, frat parties, sorority parties, and theme parties. Because SexyWearAvenue.com stocks such a wide variety of costumes, it's the ideal place to buy a favorite themed outfit for any occasion. Costumes are also the perfect way for couples to spice up their love life.
Those seeking more information, or wishing to order their costume early to ensure that their favorite item isn't out of stock before Halloween, may visit http://www.sexywearavenue.com.
###