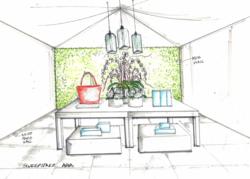 "We decided on a Zen theme, but with a fantastical twist to add visual drama and create a delightful escape for the talent as they rehearse, even if it's just for a brief moment."
Los Angeles, CA (PRWEB) January 31, 2013
Miranda Lambert, Taylor Swift, LL Cool J, Carrie Underwood, Elton John and more will recharge from rehearsals as they step into an enchanted Zen garden-inspired Official Talent Gift Lounge for the 55th Annual GRAMMY Awards®. For the second year in a row, Seyie Design has been selected as the exclusive interior designer of the Lounge. A luminescent white contemporary environment, replete with lush green foliage and organic chandeliers creates the perfect haven where, from February 7-9, talent will be pampered with the best of what Hollywood has to offer.
Music's Biggest Night® will be broadcast live on February 10, 2013 on the CBS Network at 8 p.m. ET/PT. "Creating a memorable and special experience for people who already have access to everything is challenging," says Seyie Putsure of Seyie Design, "We decided on a Zen theme, but with a fantastical twist to add visual drama and create a delightful escape for the talent as they rehearse, even if it's just for a brief moment." Décor for the lounge is provided courtesy of Niche Modern, material [ENVIRONMENT] and Big Red Sun.
Seyie has more than 10 years of experience in high fashion and interior design. She began her career as an executive with Dolce & Gabbana and Chanel in New York City. She founded Seyie Design in 2007 to bring fashion, function and interior branding to residences and to beauty, fashion and lifestyle clients.
Seyie has been Fendi Casa's Designer of the Month, has participated in DIFFA's Dining by Design, and has been featured in TIME, Elle, Vogue, DDI, Los Angeles Magazine, and LUCKY Magazine, among others. Recent projects have included designing the 54th Annual GRAMMY Awards Official Talent Gift Lounge and residences for high-profile Hollywood celebrities, including Jessica Chastain and Sarah Jane Morris. She frequently speaks about Interior Branding, and her exclusive presentation, Designing the Luxury Brand – Secrets to Creating Successful Branding Through Design in Medical Practices and Spas, was featured at THE Aesthetic Show in Las Vegas. Through her design and her blog, Life is Fashionable at http://www.seyiedesign.com, Seyie continues to merge the fashion and interior design worlds.
# # #