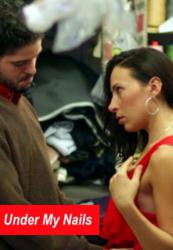 Check out the diverse line-up of films by emerging and established flmmakers from the US, Latin America, and Spain. There's something in the fest for everyone.
San Francisco, CA (PRWEB) September 05, 2012
Cine+Más SF presents the San Francisco Latino Film Festival (September 13-28, 2012) in theatres and cultural centers throughout the San Francisco Bay Area, spanning four cities over 14 days and screening 40 films (features, documentaries and shorts) from 12 countries including Mexico, Guatemala, Chile, Colombia, Brazil, Cuba, El Salvador, Chile, Argentina, Spain, Uruguay, Venezuela and the USA. The audience will have the opportunity to participate in discussions with local and visiting filmmakers after many of the screenings.
The SFLFF will open this edition of the festival with Filly Brown, directed by Youssef DeLara and Michael J. Olmos. This urban drama that made its debut at Sundance stars newcomer Gina Rodriguez in her break-out role as "Filly Brown", a headstrong young woman pursuing a music career while battling challenges at home. The film also stars Lou Diamond Phillips (La Bamba, Che), Academy Award Nominee Edward James Olmos (Stand & Deliver, Blade Runner, Dexter, Selena, American Me, Zoot Suit), and Jenni Rivera.
Also screening on opening night is Sin Padre, a San Francisco production by first-time filmmaker Jay F. Lopez, filmed in San Francisco's Mission District.
The SFLFF program includes award winning and critically acclaimed documentary and feature films from throughout Latin America, South America and the USA. Local and visiting filmmakers from around the country and Latin America are expected to attend. The festival takes the program to several communities in the San Francisco Bay Area. Films are screened in their original language with English subtitles.
"The festival's purpose is to build community through film, while educating, entertaining, and recognizing the work of Latin American, Spanish, and US Latino filmmakers which otherwise may not be seen in San Francisco," said festival director Lucho Ramirez.
A short list of Independent and blockbuster feature films includes: F*ck My Wedding, a romantic comedy from Chile by Nicolas Lopez. Under My Nails a thriller out of Puerto Rico shot in New York by Ari Maniel Cruz, Dirty Hearts a historical-drama set in WWII era Brazil involving the Japanese immigrant community there- by Vicente Amorim from Brazil; The Inca, The Silly Girl, and The Son of a Thief a road-trip drama from Peru by Veronica Aliart has misfits escaping their pasts and finding love on the way to the big city; Smuggled by LA filmmaker Ramon Hamilton tackles immigration, family, and crossing the border.
Documentaries figure prominently in the festival's offering. The following are some of the titles: Justice for My Sister by Kimberly Bautista, making its premiere is the profile of a Guatemalan woman's effort to hold the police and legal system accountable in the pursuit of her sister's killer; Looking for Larisa by Andres Pardo; old films and photographs found at a Mexico City antique shop lead the filmmaker on a search for the little girl in those images, using unconventional ways and in the process witnessing the fluidity of memory and the effectiveness of media; Sibila (Chile/Peru/France) by Teresa Arredondo is the account of the filmmaker's aunt held as a political prisoner in Peru for 15 years, accused of being a part of the Shining Path Army; Voices of Chile by Bay Area filmmaker Cyrus Omoonian which looks at Chile's democracy since the Pinochet dictatorship through the eyes of its citizens; and Homeboy by Dino Dinko examines the lives of several gay Latino men living in and around the Los Angeles area who are former gang members.
Short films include BAFTA winner Julio Ramos' thriller A Doctor's Job taking us through the streets of Lima; We're All Meant to Be Queens, part of an LGBT shorts program, was shot in the Mission District profiling transgender immigrants in their struggles as both immigrants and their new gender identity by Miguel Astudillo; The Invisible Line by Lisa Diez-Gracia from Mexico takes us to a unique tourist attraction Mexican interior where tourists pay to role-play a night-time border crossing complete with border guards, smugglers, and immigrants.
The Cine+Mas San Francisco Latino Film Festival is made possible with the generous contributions of sponsors and their continued commitment to Latino arts in the San Francisco Bay Area. Sponsors include Verizon Wireless, Wells Fargo, Macy's, Levi Strauss & Co., JCDecaux, Clear Channel Radio (KMEL, Wild 94.9, & 98.1 KISS FM), Landmark Theaters, KQED, CBS5/CW44, Telemundo 48, El Mensajero, United Airlines, San Francisco Bay Guardian and KPFA 94.1FM.
Macy's is a proud sponsor of the San Francisco Film Festival 2012, showcasing a wide variety of themes by Latino filmmakers, producers, writers and actors, as well as movies that promote Latino culture. We hope you enjoy the impressive selection of films participating in this festival.
Macy's has a longstanding commitment to diversity and supporting the arts, culture, education and progress through philanthropic activities that benefit the communities where our employees and our consumers live.
"Verizon is proud to sponsor of Cine+Mas 2012 San Francisco Film Festival. The arts are part of the fabric of our diverse community, so we honor and celebrate with you and our customers," said Zulema Carruthers.
Additional support is provided by community partners that extend to social, cultural and educational institutions in the San Francisco Bay Area: Mission Cultural Center, Galeria de La Raza, MACLA, Artists' Television Access, Los Cenzontles Mexican Arts Center, La Bohemia Productions, LAM Networks, Frameline presenters of the San Francisco International LGBT Film Festival, JC Events, the San Francisco Asian-American Film Festival, SFSU Latin@ Studies, Journalism and Film Departments, University of San Francisco, and UC-Berkeley.
September 13-28, 2012
FILLY BROWN- Opening Night Film
Victoria Theater, San Francisco
Friday, September 14, 2012, 7:30pm
Calendar Listing / Film / Festival / Community Event
What: San Francisco Latino Film Festival
Where: SAN FRANCISCO, Richmond, San Jose, Oakland
When: Sept. 13-28, 2012
7:30PM Opening Night. Filly Brown Victoria Theater, San Francisco
WHERE/WHEN: SAN FRANCISCO
Sept. 13, 8PM Film Festival Friend-Raiser Kick-Off: a live music event.La Santa Cecilia headlining. Blue Macaw, San Francisco
Sept. 14, 7:30PM Opening Night. Filly Brown & Sin Padre, (9:30) Victoria Theater, SF
Sept. 15-16, 1PM-11PM Opera Plaza Cinema, Screenings, San Francisco
Sept 19 & 26, 7:30PM Galeria de La Raza, Screenings, San Francisco
Sept. 20, 21, & 26 7:30PM Artists' Television Access, Screenings, San Francisco
Sept.22-23 1-10PM Mission Cultural Center, Screenings, San Francisco
RICHMOND
Sept. 17 & 24, 7:30PM Los Cenzontles Mexican Arts Center, Screenings, Richmond
SAN JOSE
Sept. 25 & 28 12:30PM MACLA Cultural Center, Screenings, San Jose
Sept 27 6PM Mexican Heritage Plaza, Screenings & Fiesta with KQED, San Jose
OAKLAND
Sept. 28 7PM Eastside Cultural Center, Screening Oakland
TICKETS: http://www.brownpapertickets.com//producer/1677 or by phone 1-800-838-3006
INFO: http://www.sflatinofilmfestival.org or call 415-826-7057
SCHEDULE: http://bit.ly/2o12Schedule
As has now become a tradition, the community is invited to an open reception to kick-off Hispanic Heritage Month and the SF Latino Film Festival at CBS/5 and The CW/44 Cable 12 on Thursday, September 13, 2012 from 5:30pm - 7:30 pm. To attend RSVP by September 7, 2012: hispanicheritagemonth2012.eventbrite.com/
About Cine+Más SF
Cine+Más SF contributes to the Bay Area's active and diverse arts scene through the San Francisco Latino Film Festival, year round programming and special events centered on the celebration of Latino arts including the visual, performance, and literary arts.
Our mission for the SFLFF, a volunteer run and produced program, is to showcase and promote, the work of emerging and established filmmakers from the US, Latin America, and the Iberian Peninsula. Our mission is to increase cultural opportunities for the Latino community, as well as create a cultural dialogue amongst Latinos and non-Latinos to discuss universal cross-cultural experiences. For additional program information please visit http://www.sflatinofilmfestival.org or call 415-826-7057. For tickets visit http://www.brownpapertickets.com or call 1-800-838-3006.
Become a Facebook fan: latinofilmfestival or Follow on Twitter at SFLatinoFilm