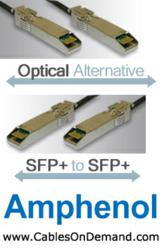 These SFP+ Direct Attach Copper Cables integrate active limiting, pre-emphasis and equalization circuitry, thereby ensuring compatibility with a growing number of 10-Gigabit Ethernet switches with "active-only" SFP+ ports.
Endicott, NY (PRWEB) July 15, 2011
Cables on Demand, a division of Amphenol Corporation, is pleased to debut a new series of SFP+ Active Copper Cables for the IT/Datacenter market at CablesOnDemand.com, Amphenol's exclusive online storefront. Engineered by New York-based Amphenol High-Speed Interconnects™ (AHSI), these SFP+ Direct Attach Copper Cables integrate active limiting, pre-emphasis and equalization circuitry, thereby ensuring compatibility with a growing number of 10-Gigabit Ethernet switches with "active-only" SFP+ ports. The popular SFP+ (SFP Plus) interface has quickly become the high-bandwidth interconnection method of choice where reduced latency and power consumption parameters are of critical importance.
Amphenol's high-speed interconnect manufacturing expertise shines through with each and every product sold in its SFP+ portfolio according to Nick Blas, Product Marketing Manager for Amphenol Cables on Demand. "Maintaining 10-Gigabit data-rates over a single data lane is always a challenge, especially when copper is the transmission medium. To combat these challenges, Amphenol has designed its active SFP+ cable series using a comprehensive systems engineering approach. Everything from the SFP+ connector's PCB backplane to the twinaxial copper wire itself is bandwidth-optimized – often with the aid of proprietary Amphenol technology."
Amphenol intends to fill a void in the marketplace with its new Active SFP+ Cable offering. The proliferation of 10-Gigabit Ethernet network infrastructure has excelled well beyond industry expectations. With critical subcomponents in short supply, OEM's are removing the signal equalization circuitry from their equipment's SFP+ ports. While the move helps to lower associated hardware costs, the additional signal processing demands are offset onto the network's interconnect platforms. This leaves network integrators and installers with only two options for wiring up short-distance links 10 meters or less in length.
The first and most expensive interconnect option in the aforementioned scenario is to link up a pair of SFP+ ports using a separate SFP+ optical transceiver module for each port in conjunction with an optical patch cord. This particular interconnect method is extremely expensive due to the costs incurred from the SFP+ transceiver modules as well as the power and/or heat budget considerations associated with the optical engines themselves. The second option, which offers significant cost advantages over the optical route, is to use an active equalized SFP+ copper cable assembly such as the one offered by Amphenol. One Amphenol SFP+ Active Copper Cable Assembly will perform the same function as two SFP+ transceiver modules with optical patch cord – all for around one quarter the cost and one half the power consumption.
Genuine Amphenol Active SFP+ Copper Cable Assemblies are available in a variety of popular lengths, including 1m, 3m, 5m, 7m, and 10m – perfect for short-run top-of-rack switching applications. Each Active SFP+ Cable utilizes Amphenol's latest integrated 20-position "board-as-connector" design with active equalization and limiting amplifier circuitry; fully enclosed within zinc die-cast backshells for superior EMI performance and minimal insertion loss. Each cable is expertly assembled with Amphenol Spectra-Strip brand twinaxial SKEWCLEAR® 2-pair wire; optimized for bandwidth-intense applications such as 10Gb Ethernet, Fibre Channel, InfiniBand, and SONET. SFF-8431 SFP+ MSA compliant for guaranteed compatibility with your SFP+ ported switch, router, or NIC.
All of the cables discussed above are available now for same-day shipment from Amphenol Cables on Demand's Endicott, NY-based fulfillment center. Bulk discounts are available in quantities above 50 pieces. Cables on Demand offers Free UPS Ground Shipping on all orders over $75.00 and periodically offers special promotional discounts. To place an order online, customers can visit the Cables on Demand website (http://www.CablesOnDemand.com) or call the company's Toll Free Customer Service Call Center at 1-866-223-2860. Amphenol Cables on Demand also offers a complete selection of related high-speed cabling products, including SFP+ Passive Copper Cables, QSFP to 4-SFP+ Splitter Cables, QSFP Cables, and 40-Gigabit Ethernet QSFP+ Cables. All major credit cards are accepted and NET30 payment terms are available on approved credit.
Amphenol Corporation (NYSE:APH) is the second largest manufacturer of connectors and cables worldwide, comprised of over fifty industry-leading divisions including Times Fiber Communications, Times Microwave Systems, Teradyne Connection Systems, Amphenol Interconnect Products and Amphenol RF. Since 1934, Amphenol Engineers have designed innovative interconnect solutions such as the BNC and UHF connector series, SKEWCLEAR wire technology, and XCede backplane architecture.
Amphenol Cables on Demand, launched in 2006, is Amphenol's first wholly owned subsidiary optimized for the distribution of Amphenol brand cable products online. Based in Endicott, NY, Cables on Demand offers same day shipping before 3:00PM Eastern on over 3,000 unique cable SKUs. The company's high product mix supports a vast array of applications including Network, Broadcast, Test, Instrumentation, Audio/Video, Data Storage, Clustered Computers, Prototyping, Automation, Industrial Control, WiFi, Automotive and Avionics.
###