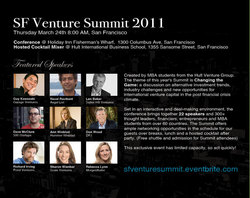 we are passionate about ... active involvement with the venture capital community and help fuel innovation through the entrepreneurial process
San Francisco, CA (PRWEB) March 18, 2011
The theme of this year's Summit is Changing the Game: a discussion on alternative investment trends, industry challenges and new opportunities for international venture capital in the post financial crisis climate. Set in an interactive and deal-making environment, the Summit will bring together 300+ thought leaders, financiers, entrepreneurs and MBA students from over 60 countries. Throughout the day, attendees will have the opportunity to listen to guest speakers, engage in panel discussions, share and expand their knowledge about the current and future trends of the venture capital ecosystem.
The Summit is organized by Hult Venture Group - a non-profit organization of ambitious MBA students, whose mission is to create a bridge between financiers and entrepreneurs. "As MBA students, we are blessed to have (some) free time on our hands and the skills to do what we are passionate about." says Mike Chen, Hult Venture Group Co-Founder. "For us that has meant active involvement with the venture capital community and help fuel innovation through the entrepreneurial process."
The Summit will be held on March 24th, 2011 at the Fisherman's Wharf Holiday Inn Hotel, followed by a networking mixer at Hult International Business School, across from Levi's Plaza. Tickets for this event are now on sale.
The summit features 20+ speakers:
Andrew Lee - Battery Ventures
Ann Winblad - Hummer Winblad
Chris Redlitz - Transmedia Capital
Dave McClure - 500 Hats
Don Butler - Thomvest
Don Wood - DFJ
Drew Clark - IBM Venture Capital
Gautam Barua - Aclaria Capital
Guy Kawasaki - Garage Ventures
Jean Batman - Legal Venture Counsel
Len Baker - Sutter Hill Ventures
Naval Ravikant - Angel List
NIcholas El Baze - Partech Ventures
Patrick Gleeson - Meyer Family Entprs.
Paul Bragiel - IO Ventures
Rebecca Lynn - Morgenthaler
Richard Irving - Pond Ventures
Rudy Garza - G51
Sajjad Masud - Harvard Angels
Sharon Wienbar - Scale Ventures
Susan Lucas-Conwell - SD Forum
Wes Selke - Good Capital
The Hult Venture Group consists of top students from Hult International Business School:
Executive Directors: Mike Chen @spacemonkeymike, Han Vanholder @hanvanholder
Business Development Directors: Kyle Burns, Mattias Priels
Corporate Relations Directors: Lona Alia Duncan, Randall Dennis
Communications Directors: Charlemagne Quinitio, Suchi Dalmia
Outreach Directors: Gaz Lloyd-Owen, Florian Grenier
Admin: Nirant Sanghvi
Editors: Daria Kyrilova, Arthur Hyunh
Hult International Business School opened its new campus in San Francisco in September 2010, offering graduate programs including MBA and Masters of International Business. Worldwide it is among the top 100 business schools and in 2011 it has been ranked 1st for International experience by the Financial Times MBA ranking.
# # #