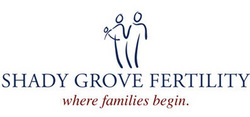 Shady Grove Fertility's Shared Donor Egg Program cuts the cost of treatment by 50%, eliminates lengthy wait times and yields the same high pregnancy rates as a traditional donor egg program.
Rockville, MD (PRWEB) June 8, 2010
A two-and-a-half year review of data from nearly 1,300 donor egg treatment cycles at Shady Grove Fertility Centers shows that the vast majority of patients are opting for the new Shared Donor Egg program. This innovative program cuts the cost of treatment by up to 50%, eliminates lengthy wait times, and yields the same high pregnancy rates as a traditional donor egg program.
Donor egg treatment is recommended for women who are unable to use their own eggs to conceive. It is the most successful of all Advanced Reproductive Technologies but, because of the complexities associated with using a donor, it is also the most expensive and typically not covered by insurance.
"We realized that the large majority of our patients who were candidates for donor egg treatment were walking away because of the cost," says Michael Levy, MD, Founder of Shady Grove Fertility Centers and Director of the IVF and Donor Egg Programs. "A retrospective analysis of more than 2,000 donor cycles showed that a single donor produces an average of 18 eggs per cycle, each with potential for fertilization and embryo development. Typically, only one to two of the resulting embryos would be transferred to a patient, so we believed there was an opportunity to share the eggs, and the costs, without compromising success rates. As an added benefit it would also significantly reduce the wait time to be matched with a donor."
The Shared Donor Egg program allows eggs retrieved from a single donor to be shared by as many as three donor egg recipients. The new program was introduced in January 2007. Data collected through June 1, 2009 reflects 1,296 cycles were performed. It also demonstrates an identical delivery rate of 48% per initiated cycle for both single donor recipients and patients who shared a donor.
Currently, nearly 90% of Shady Grove Fertility's donor egg recipients choose the Shared Donor Egg program in conjunction with the popular Shared Risk 100% Refund program. For the same cost as a traditional donor egg cycle, with no guarantee of success, the Shared Donor/Shared Risk combination offers couples up to six treatment cycles and a full refund if they don't deliver a baby.
"We expected a strong local response to this program because we effectively eliminated most of the barriers to accessing treatment," says Dr. Levy. "But most interesting has been the increasing popularity with out-of-state and international patients who often face extensive wait times or prohibitive governmental policies...and it seems to be a more viable family-building alternative for couples frustrated by the increasing barriers to international adoption."
Access to care has also been streamlined so long-distance patients make only two brief trips to the Center in the Washington, DC metropolitan area. Hundreds of patients from all 50 states and more than 35 countries have sought treatment at Shady Grove Fertility. Shady Grove Fertility Center has the largest donor egg program in the country and performs approximately 600 donor egg cycles per year.
To learn more about donor egg treatment and the Shared Donor Egg program, join Shady Grove Fertility on Thursday, June 10th from 7 - 7:45 pm for a live, online webinar.
# # #