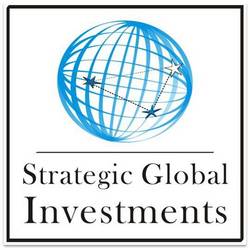 Carlsbad, CA (Vocus) June 3, 2010
Strategic Global Investments, Inc. (OTC: STBV) announced today that it has acquired 100% of the shares of Punta Perfecta S.A. de C.V., a Mexican Corporation based in Baja Sur, Mexico. According to CEO Andrew Fellner, the transaction occurred through a like-for-like stock exchange and brings to STBV new property holdings in Baja California Sur which have been appraised at approximately $5 Million US.
Mr. Fellner said, "We are very pleased to complete the acquisition of Punta Perfecta. This brings to our portfolio very attractive building sites in Los Cabos. Our intention is to continue the construction already in progress at Punta Perfecta and build out the full 30 to 35 home subdivision there."
The property in Los Cabos is located at Punta Perfecta on the East Cape of Baja California on the coast of the Sea of Cortez. A 5-bedroom 4.5 bath model home of about 5,000 sq. ft. is about 70% completed and under active construction at the site. Located near the intersection of the Palo Escopeta Rd. and The Coast Highway, the property is accessible by car from the International airport in San Jose del Cabo in less than an hour. STBV plans to sell the homes at Punta Perfecta as Fractional Ownership units to maximize the return on investment.
Another property at La Paz is also under Option contract and includes 48 acres at Play del Tesoro. Fellner said "We are in the planning stage for the property at La Paz which is more than 4 times as big as Punta Perfecta and includes about 4 acres of beautiful beach front land. This fits very well with our mission of developing eco-friendly homes and communities in attractive natural locales."
Strategic Global Investments Inc. is the new corporate name for the previous American Consolidated Laboratories Inc.
About Strategic Global Investments Inc.
Strategic Global Investments Inc. (OTCB: STBV), is a real estate development corporation that specializes in creating eco-friendly communities in beautiful locations. Current properties under development and Option Contract are located in Los Cabos and La Paz, Baja California Sur, Mexico. Strategic Global Investments is a Delaware Corporation and trades on the OTC exchange under the ticker STBV. The company's principal business office is located in Carlsbad, Ca. For more information, visit http://www.strategicglobalinvestments.net
About CEO Andrew Fellner
Strategic Global Investments CEO Andrew Fellner has been in real estate development and other related businesses for more than 30 years. He holds a law degree and a degree in accounting. He previously developed and successfully sold a private Internet Radio company and a software company to a public company in a favorable stock transaction.
Forward-Looking Statements
This release includes forward-looking statements within the meaning of Section 27A of the Securities Act of 1933, as amended, and Section 21E of the Securities Exchange Act of 1934, as amended. All statements regarding our expected future financial position, results of operations, cash flows, financing plans, business strategy, products and services, competitive positions, growth opportunities, plans and objectives of management for future operations, as well as statements that include words such as "anticipate," "if," "believe," "plan," "estimate," "expect," "intend," "may," "could," "should," "will," and other similar expressions are forward-looking statements. All forward-looking statements involve risks, uncertainties and contingencies, many of which are beyond our control, which may cause actual results, performance, or achievements to differ materially from anticipated results, performance, or achievements. Factors that may cause actual results to differ materially from those in the forward-looking statements include those set forth in reports filed with the SEC. We are under no obligation to (and expressly disclaim any such obligation to) update or alter our forward-looking statements, whether as a result of new information, future events or otherwise.
###