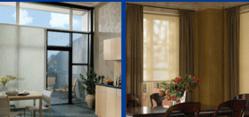 These are so beautiful and I love the fact that I can change the position of my shutters throughout the day depending on the sun
San Ramon, CA (Vocus/PRWEB) July 15, 2011
While the classic style of manual shutters is still very popular, Brooks from Creative Shades and Cabinetry of San Ramon, CA promotes the usage of motorized shutters because of its environmentally friendly appeal. Now that summer is here, owners of motorized shutters in the East Bay have the benefits of conserving energy, and saving time throughout the day.
Mary, a client from Creative Shades once said, "These are so beautiful and I love the fact that I can change the position of my shutters throughout the day depending on the sun." Installing motorized shutters in the Bay Area can be quite simple with the help of Brooks Fawley from Creative Shades and Cabinetry.
Motorized shutters are also great for hard to reach places. The shutters are simply charged by standard AA batteries, and have stepper motors that allow all side-by-side shutters to be set to the same exact louver position. "There will be no more playing with the adjustments just to get them to look all the same - just simply press one button," said Brooks.
East Bay Motorized Shutters have grown in popularity because of the many benefits that they offer to homeowners, they provide the convenience of saving time to make adjustments throughout the day, as well as reducing the cost of air conditioning bills. So if one doesn't want to deal with the manual shutters or they are hard to reach, and wants take advantage of the convenience of pushing one button, call Creative Shades and Cabinetry for the installment of motorized shutters (925-820-6868). They have many other options for shutters and shades as well.
About Creative Shades and Cabinetry
Creative Shades and Cabinetry has become the San Francisco East Bay Area's premier window covering and house remodeling company. Creative Shades and Cabinetry offers window covering solutions, as well as over 25 years' expertise in the construction field. They also offer custom painting and design services with all cabinet jobs.
Since becoming a Better Business Bureau member in 2005, Creative Shades and Cabinetry has held an Honor Roll position due to its customer service and complete follow through in every job. Additionally, per an independent study conducted in 2007, Creative Shades and Cabinetry maintains a 97.6% customer satisfaction rating.
###