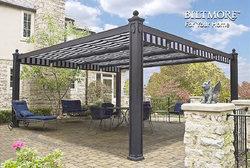 Fortunately, the management of Biltmore™ was so impressed with our new design, they granted us permission to use the name
Columbus, OH (PRWEB) May 16, 2008
ShadeTree® retractable deck and patio shade canopies provide inspiring fashion trends in outdoor living for residential or commercial applications. Creating a statement for stately living outdoors, ShadeTree has announced the introduction of Biltmore™, an elegant shade system inspired by the grandeur of an American jewel.
The new ShadeTree shade canopy model was inspired by the 250-room French Renaissance chateau, known as Biltmore™ House. Featuring picturesque lawns, gardens and vineyards, and dazzling outdoor rooms, it played a key role in the distinctive architectural details of this elegant shade system - a pleasing combination of old world architecture and new world technology. It is the newest addition to the Biltmore™ For Your Home licensed collection.
The chateau built by George W. Vanderbilt in 1895 in Asheville, NC, in the Blue Ridge Mountains, is not only the nation's largest private residence, but also a National Historic Landmark.
"Our chief designer upon visiting this remarkable landmark last year was awestruck by what he saw. After a day of note taking, photo snapping and sketch making, he returned home and created a new ShadeTree® design so clearly influenced by Biltmore™ style, he wanted to call the new shade canopy design , Biltmore™," said Dwayne Williams, President of ShadeTree.
"Fortunately, the management of Biltmore™ was so impressed with our new design, they granted us permission to use the name," Williams added. "We're delighted with their confidence and pleased to be offering this extraordinary design to discriminating customers."
The stately support columns of ShadeTree's Biltmore™ model are made of heavy, rust-free aluminum, featuring recessed panels similar to the look paneling found inside the chateau. And near the top of each panel is a highly detailed escutcheon, borrowed from a fireplace mantel at the estate and include a finial ball on top.
ShadeTree's new Biltmore™ shade system model is also the longest-spanning structure, capable of reaching an incredible 24 feet, which makes it ideal for residential as well as commercial shade applications. Unlike any other retractable awnings, long spans, combined with a patented and reliable wind protection system, makes ShadeTree the only awning product in the industry to carry a high wind damage protection guarantee.
The rugged cast and extruded aluminum structure of this newest ShadeTree creation oozes strength and elegance while requiring only modest maintenance. And Biltmore™ is matte-finished and powder-coated in black, bronze, beige or white. Custom colors also are available.
Designer shade canopy fabrics also are available from Sunbrella®. ShadeTree offers more than 40 shades of Sunbrella® commercial awning fabric.
Biltmore™ is available as a freestanding shade system unit and also can be attached directly to a home or other structure to provide a grand setting for outdoor luncheons and dinners, cocktail parties or after-hours relaxation.
Contact information:
Dwayne Williams
ShadeTree® Canopies
http://shadetreecanopies.com
800-894-3801
About ShadeTree
ShadeTree® retractable awnings operate on a unique overhead track system that supports a broad choice of handsome, decorative awnings. The awning fabric rides on cross members that contain rollers, which glide smoothly in the sturdy, overhead tracks.
They ride so smoothly they can be extended in only seconds, with no more effort than it takes to close window drapes. And they can be retracted just as easily on overcast days, to let more light in the house. More information is available at http://www.shadetreecanopies.com
About Biltmore
Located in Asheville, North Carolina, Biltmore was the vision of George W. Vanderbilt, who first opened Biltmore House to family and friends on Christmas Eve 1895. Designed by Richard Morris Hunt, America's largest home, is a 250-room French Renaissance chateau, exhibiting the Vanderbilt family's original collection of furnishings, art and antiques. Biltmore estate encompasses more than 8,000 acres including renowned gardens designed by Frederick Law Olmsted, the father of American landscape architecture. Today, Biltmore has grown to include the award-winning Biltmore Winery, four-star Inn on Biltmore Estate, Equestrian Center, Outdoor Center, five restaurants, event and meeting venues and Biltmore™ For Your Home, the company's licensed products division. To learn more about Biltmore, visit http://www.biltmore.com or call 877-BILTMORE.
###