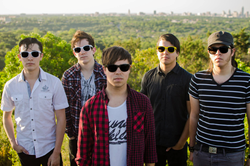 It was the strong online presence of the pop-rock, alternative that caught the attention of Starbucks
Austin, TX (PRWEB) December 08, 2014
This month, Shadow of Whales has added three songs, Dream, Fall Back, and Pretenders, from their self-titled EP to the US and Canada playlist at Starbucks, giving people some respite from the onslaught of holiday tunes.
Shadow of Whales has been turning heads since making their debut appearance on FOX 7 News at the beginning of the year, opening for Slash, Billy Idol and Billy Gibbons during Dell World and releasing their debut self-titled EP in August. However, it was the strong online presence of the pop-rock, alternative that caught the attention of Starbucks. One of the bands Twitter followers (@AustinMSlingers) reached out to an employee at Starbucks to refer Shadow of Whales and they were intrigued enough to listen to their music and make the call.
"It was very out of the blue when they called us for Dream, and when they heard the rest of the EP they added two more songs." says Shadow of Whales bassist, Jeremy Boyum, "We couldn't be more excited for this opportunity! We all frequent Starbucks as it is, so to have our music playing there is quite an honor"
To celebrate their debut on the Starbucks airwaves, Shadow of Whales is letting listeners download their song "Dream" for free, compliments of Anchor Music News at http://www.anchormusicnews.com. The rest of the EP is available for instant stream or download on iTunes or Shadow of Whales official website: http://www.shadowofwhales.com.
In addition to streaming across the 22,000 Starbucks stores across the nation and Canada, Shadow of Whales will be opening for Jonny Craig on January 21st at the Red 7, and are scheduled to play at the Heart of Texas Rockfest in March.
Follow Shadow of Whales on their social sites:
Facebook.com/shadowofwhales
@ShadowOfWhales