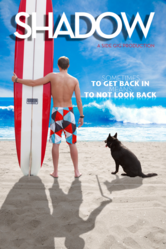 "I wanted to explore how circumstances beyond our control refine us and ultimately define us."
Autumn McAlpin, Writer/Director
Los Angeles, CA (PRWEB) May 14, 2013
The film's writer and director, Autumn McAlpin, wrote the story after being diagnosed a few years ago with Charcot Marie-Tooth disease, a disability that affects her muscles and mobility. "I wanted to explore how circumstances beyond our control refine us and ultimately define us," says McAlpin.
The story follows Chase, a young, confident surfer with his whole life ahead of him who loses it all in one incident, and he has to decide whether to go on. It's through watching Shadow, a three-legged dog, that he sees how a disability can actually enable him to find new strength.
"For me, Shadow the dog represents the courage and strength of others I've observed in the disease/disability community, who plug on with resilience and proper perspective even when it may seem like they don't have much to live for," McAlpin says. "But Shadow teaches us it is never too late to turn to hope."
While "Shadow" is not classified as a student film, the film's crew is comprised of some of the best and brightest alumni and students from USC's film school. The team intends to submit the project to festivals worldwide, and showcase the piece on their reels.
The project boasts several SAG actors and up-and-coming names. Ernie Lively (American Pie 2, Sisterhood of the Traveling Pants) plays Dr. Holden, a psychologist. John Philbin (Blue Crush, North Shore, Point Break, Tombstone) plays surf dad Eric Davis, and Laura Black (To Save a Life) plays Susan Davis. Rising star Mason Mac (Granite Flats, Cloud 9) plays the lead role of Chase Davis. And "Shadow" the dog plays "Shadow." Additional roles will be cast this week.
McAlpin is also the writer and a producer of "Waffle Street" (2014), a feature based on the memoir of Jimmy Adams, who after losing his job as a VP of a $30 billion hedge fund, winds up working at a breakfast joint; and writer for "The Donna"(2015; producers Brad Johnson and Jason Weinberg), an action-adventure featuring a spirited heroine and set in medieval times.
Through this project, McAlpin also hopes to draw attention and raise money for the MDA (Muscular Dystrophy Association), who fights for a cure for diseases like hers. Funds for the film will be raised through Indiegogo.com . McAlpin's company, Side Gig Productions, will match 5% of all funds received with a donation to the MDA.
The film will be shot in various Orange County locations the week of May 20-23, including Mission Hospital and the surf and sand of Huntington Beach. McAlpin and various members of the cast and crew are available for interviews. Please contact Dave Meacham to arrange (949)235-8862 / davidsmeacham(at)gmail(dot)com.