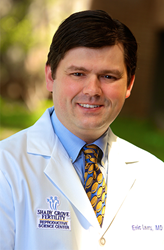 Infertility impacts 15 percent of couples of childbearing age from conceiving or carrying a pregnancy to term.
Rockville, MD (PRWEB) June 22, 2017
Shady Grove Fertility physician, Dr. Eric Levens, and the American Society for Reproductive Medicine lead efforts to have the American Medical Association House of Delegates adopt a resolution to designate infertility as a disease.
Experts from leading health organizations including the World Health Organization (WHO) and the American Society for Reproductive Medicine (ASRM) have designated infertility a disease, and as of the recent 2017 AMA Annual Meeting, the American Medical Association (AMA) agrees.
Infertility impacts 15 percent of couples of childbearing age from conceiving or carrying a pregnancy to term. Eric D. Levens, M.D., of Shady Grove Fertility's Annandale, VA location, sees patients every day who suffer through the often invisible pains of infertility. This motivated him to write the resolution, gain support from co-sponsors including the American Congress of Obstetricians and Gynecologists (ACOG) and American Urology Association (AUA), and testify on behalf of ASRM before the AMA House of Delegates.
It is expected this new designation will have a wide-reaching impact on a patient's ability to receive the medical care needed to treat infertility as well as receive insurance coverage for that care. Currently only fifteen states–including Maryland and New Jersey–mandate insurance coverage for infertility treatment, but the scope of coverage can vary greatly based on state, insurance company, and individual plans.
"My hope is that with greater access to the necessary health care, patients are able to make better decisions regarding their medical treatment and do not take on additional risks such as multiple embryo transfers," explains Levens.
"We applaud the American Society for Reproductive Medicine for their work in sponsoring a resolution that was adopted by the American Medical Association, finally designating infertility as a disease," says Barb Collura, President and CEO, RESOLVE: The National Infertility Association. "This is a critically important step in getting insurance coverage for infertility as we know this type of AMA designation paved the way for other diseases to be accepted as medically necessary and covered by insurance. We have a great deal of work to do but having the AMA designation will help our efforts to ensure everyone has access to the care they need and deserve to build their family."
About Shady Grove Fertility
Shady Grove Fertility is a leading fertility and IVF center of excellence offering patients individualized care, innovative financial options, and pregnancy rates among the highest of all national centers. 2016 commemorated 25 years of Shady Grove Fertility providing medical and service excellence to patients from all 50 states and 35 countries around the world, and over 40,000 babies born—more than any other center in the nation. Today, 35+ physicians, supported by a highly specialized team of more than 700 Ph.D. scientists, geneticists, and staff care for patients in 19 full-service offices and six satellite sites throughout Maryland, Pennsylvania, Virginia, and Washington, D.C. Shady Grove Fertility physicians actively train residents and reproductive endocrinology fellows and invest in continuous clinical research and education to advance the field of reproductive medicine through numerous academic appointments and partnerships such as Georgetown Medical School, Walter Reed National Military Medical Center, the University of Maryland, and the National Institutes of Health. More than 1,700 physicians refer their patients to Shady Grove Fertility each year. For more information, call 1-888-761-1967 or visit ShadyGroveFertility.com.